Thursday 16th May 2013 The Electronic High Street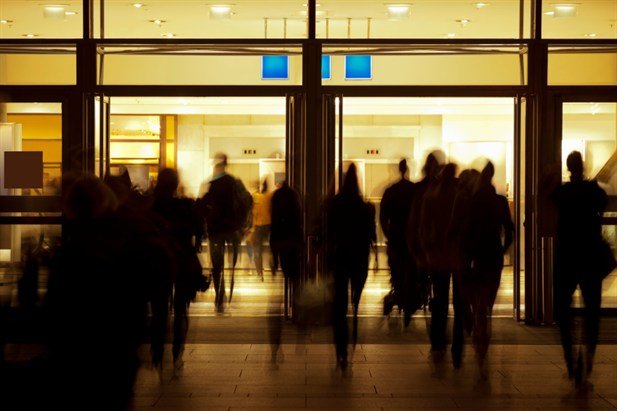 The High Street has long been regarded as one of the best indicators of the economic health in the United Kingdom, but the huge impact of e-commerce has finally begun to take its toll on the brick-and-mortar side of retail. Over 10% of shops in town centres across the UK are empty, and the decline in chain stores has been accelerating dramatically since 2011. There are many competing theories about the root causes behind this decline, but one thing can't be denied – these retailers are failing to adapt to a changing consumer market.
In an era when the cost of doing business rises faster than the accompanying sales values, cost-cutting has to be a major consideration for retailers of all sizes. One of the most effective means of accomplishing this, of course, is to reduce the footprint of physical sales operations and move towards a lower-cost online model. The initial development of a solid e-commerce platform may be expensive, but the cost of maintaining a single storefront (in other words, a single chain-wide website) is obviously fantastically cheaper than having physical storefronts dotted all over the country.
Many retailers are leery of making the jump to an entirely online business model, and perhaps with good reason. John Lewis has solved this problem using a method known as a 'multi-channel' approach, allowing retailers to split their efforts and adapt to the changing conditions and demands of the consumer towards digital offerings while still catering to those shoppers who prefer to do their shopping in a brick-and-mortar store. Richard Lowe of Barclay's offers another solution, with a much heavier focus on leveraging social media as an analogue to more traditional word-of-mouth advertising strategies. Burberry, Louis Vuitton and Prada have all made extensive use of social commerce to drive sales, and have weathered the e-commerce storm better than most other retailers as a result.
It is important to note, however, that even though there is a rapidly burgeoning trend towards e-commerce and m-commerce in almost all areas of retail, there will be certain niches that will retain their brick-and-mortar facades as a matter of necessity. The question becomes not whether the product can be purchased online but whether it is the best choice to do so. Retailers will need to evolve the value propositions they offer to customers and expand their in-store consumer experiences to stay current and relevant in the marketplace.
In other words, what we're seeing is by no means the death of the high street model, but rather a complex metamorphosis into a leaner and more efficient model that better suits customer demand.
Posted on May 16th 2013 at 12:53pm by Ade

0 Comments
Monday 13th May 2013 Mobile Commerce and the Evolution of Retail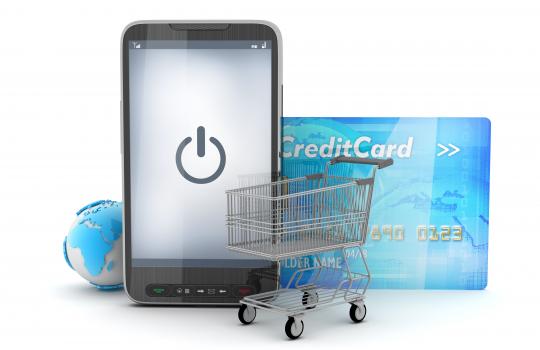 Since the earliest days of mobile commerce, industry analysts have been forecasting ominous predictions for its impact on brick-and-mortar retailers. The predictions have come home to roost this year, however, in the form of a report from the marketing firm Tradedoubler on the impact of smartphones and mobile commerce on the retail market.
Since the earliest days of marketing and retail analytics, 'footfall' (foot traffic, to the layperson – essentially, the number of potential customers entering a store) has been the gold standard for measuring retail and marketing successes. This metric has finally lost its value in this day and age, however, with an astonishing 92% of customers adopting mobile shopping to fill their needs. Deal hunters from all demographics are responding to newer, technologically-based approaches such as performance marketing, in the form of vouchers and coupon codes. Brick-and-mortar stores are increasingly being left to act as mere showrooms for products that are actually purchased online, with upwards of 70% of customers using mobile applications to scan barcodes in order to search out the best possible deal.
This must strike the entire retail industry as a clarion call to adopt new practices and strategies, all the way from the high street to individual marketers. Footfall can no longer be considered an accurate metric of success, and performance marketing is paving the way for a new retail order. More than half of all mobile consumers are actively searching for better deals on in-store products using their mobiles, and almost as many are using these vouchers from the beginning of their purchasing plan.
As with any major change in the industry, retailers will need to adapt in order to stay above water. This particular shift in tendency offers a great deal of potential for forward thinking retailers who are able to adapt their business models and marketing tactics to integrate this change into their strategies.
Posted on May 13th 2013 at 07:31pm by Mark

0 Comments
Monday 06th May 2013 Getting the Most out of Google Shopping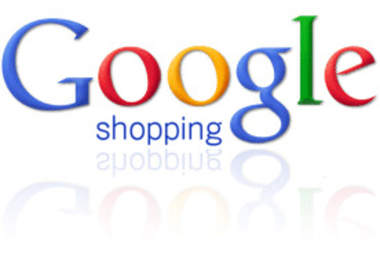 It's almost an unwritten law of ecommerce that when Google shifts policies, the ripples are felt through every corner of the world. Eventually, however, the shock fades and retailers quickly adapt to the new system. Last year's evolution of Google Product Search into Google Shopping is a perfect example of this phenomenon, and one that wound up creating a much better ecommerce experience for consumers. The main perk, as with any data-oriented system, is the potential for customisation. There are many different ways the retailers can take advantage of the new system, but we'll look through a few of the best ways to maximise your results with Google Shopping for the upcoming year.
One of the most important things to consider for retailers working with Google Shopping is that all listings on the service accurately reflect any changes that are made on your website. This is not merely good practice; Google may temporarily suspend your account or completely remove your listings from the system. Fortunately, updating data is fairly easy through Google product feeds.
The next critical element to consider is which keywords you choose to target with your listings. This is where any retailer who's been carefully tracking their own sales data can really shine. By accurately matching your ads and targets to the intents of searches, rather than simple keyword matches, you can dramatically improve the click-through and conversion rates associated with your ads, which will result in a large net benefit on the bottom line. If you haven't been tracking your keyword targets as diligently as you could have been, it may require a larger initial investment of both money and analytics time to determine your optimal targets.
When you're preparing your ad listings, known as Google Product Listing Ads (or PLAs for short), be sure to include the words and phrases that you've been using as PPC keywords in your other campaigns. Instead of targeting the keywords explicitly, as in an Adwords campaign, PLAs use your product descriptions and titles as a means of determining relevancy.
Try to put yourself in the mind of a shopper when you're crafting these sections, as they can be the make-or-break elements of your success. As with any Google listings, ensuring a decent click-through rate can be accomplished by making your listing stand out from the rest. In this case, eye-catching high quality imagery and specific promotional text can be leveraged to boost your CTR, so choose these just as carefully as your product titles and descriptions.
Finally, as with any data-based system, it's absolutely crucial to track, test, and optimize your listings. Google provides excellent tools for comparing the relative merits of different listings, so be sure to take advantage of the tools to make sure you're not leaving money on the table!
Posted on May 06th 2013 at 02:52pm by Ade

0 Comments
Wednesday 01st May 2013 Best Pricing Strategies for Online Retail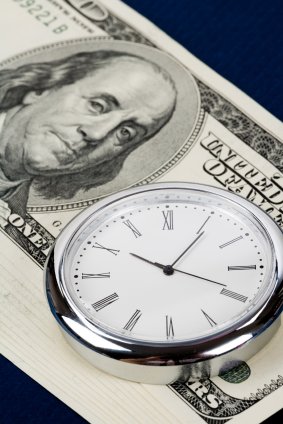 We've talked a fair bit about various pricing strategies over the last while, but every once in a while it's good to do a quick recap for those who don't have much time for research. Today, let's quickly cover some of the most common strategies for pricing in online retail.
Product pricing in the online world is one of the trickiest things to nail down, as prices fluctuate dramatically as retailers seek to gain advantages and balance themselves against the market. However, there are two basic models that are used by online retailers. First, the most common practice is simply using static prices with occasional discounts to entice customers. This is a tried-and-true model that everyone relates to. The second and less common practice involves dynamic competitive pricing. This is less common, but Amazon's successful use of the technique is driving other retailers to adopt the same strategy to win over price-conscious customers.
Reward programs are also a major part of online retail, just as they are in brick-and-mortar stores. The online factor allows for much more targeted and personalized rewards and promotions, however, as online retail has the obvious benefit of creating a database of customer purchase history and browsing habits. Be sure to dynamically segment your customer list based on interest and send out specialized promotions.
Finally, we come to the biggest issue that online retailers face: shipping fees. Shopping cart abandonment is often highest at checkout, and one of the main reasons for this is 'shipping shock'. Fortunately, there are a number of ways around this problem:
Amazon has debuted a new service called 'Prime', where customers pay a yearly fee to receive free shipping
Offer free shipping after a minimum order size (typically set just above your average order size)
Free shipping is one of the most expensive solutions, but depending on your product, it can be a major sales driver
Flat fees are another more common option, and again, depending on your product, this can be a great benefit to the business (even to the point of making a profit on shipping).
However, for the busy pricing manager, remember the bottom line: your pricing strategy should align with the overall goals and structure of your business. What works well for some companies may not be advantageous for you. Be sure to take the time to get it right, as pricing can make or break your business.
Posted on May 01st 2013 at 02:02pm by Mark

0 Comments
Monday 29th April 2013 Ten Best Practices for Online Merchandising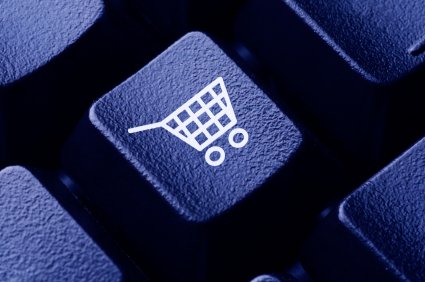 Ecommerce can be a daunting prospect for businesses new to the game, but in this day and age it's the only way to stay competitive in the marketplace. With a little help from the following list, you can be sure that your ecommerce solution is delivering all the sales it can.
Understand the Possibilities – As a business owner, you probably don't want to get mired in the technical details of your website. You should be focused on running your business, not just your website. But make sure that you take the time to explore the competition's websites, and see if that generates any new promotional ideas.
Advertise Internally – Most retail websites are huge, and customers don't have the advantage of easily walking up and down every aisle. Even as brick-and-mortar stores have large in-store highlights and advertisements for their high-margin items, websites can promote their own products internally with very little effort.
Simple Searching – Also as a side effect of the sheer size of most retail websites, customers tend to start their shopping session with a search. Make sure that your search functionality makes it simple and easy to find exactly what customers want.
Upselling – Because your website is essentially a large database of your products, it's easy to associate different products. For example, if your customer purchases an iPod, it's easy to also suggest that they purchase a fancy pair of headphones and a protective case, since they are related products.
Bundling – This idea works on the same technological principle as upselling, but has added psychological value for the customer. By offering several low-margin products paired with a high-margin product and offering a special 'bundle price', you can drive sales and boost customer satisfaction.
Take Care with Your User Interface – Take the time to actually use your own website. Put yourself in the mind of a potential customer, and try to navigate from your homepage to a successful purchase completion. What problems arise? What isn't immediately clear? These issues can have a serious impact on your bottom line.
Listen to Your Customers – By the same token, it's important to listen to what your users are telling you – and to make sure that it's easy for them to give you feedback. Market research can never be overvalued, especially when it's free of charge!
Track your Sales – As an added benefit of conducting your business online, you have the option to set up tracking software such as Google Analytics that will generate insights into how your customers use your website. This will showcase any problem areas that are leading to shopping cart abandonments and other problems that hinder sales.
Target Promotions – For customers who've created accounts and then abandoned the site with their shopping cart full, try sending targeted promotions based on the products they were interested in purchasing. Often, a small discount is all it takes to bring the customer back to complete the sale.
Run A/B Tests – A/B tests, also known as a split tests, are essential for getting the most out of your website. The principle is simple: show one version of a page to half your users, and show a second version to the other half of users. Measure which version results in more sales, and implement it across the whole site. Then try the same process again, adjusting a different element to further refine your site.
Posted on April 29th 2013 at 01:02pm by Ade

0 Comments
Friday 26th April 2013 Should You Offer Free Shipping?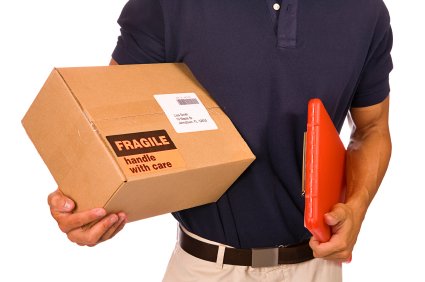 Shopping online is rapidly becoming the biggest sector of the retail market, but the entire industry hinges on one thing: shipping. One of the highest points of abandonment in the online shopping process happens at the checkout stage, when shipping costs are calculated. As a result, many retailers have chosen to offer some sort of 'free shipping' promotion, but they often go about this in many different ways. We'll go through three of the most popular methods, to help you decide whether or not your business can benefit from implementing one of them.
One of the newest entrants to the shipping arena is the 'annual fee' method. The most well-known example of this is 'Amazon Prime', where customers pay an annual fee of $79 USD and then receive free shipping on all their purchases. This is an attractive model for customers who purchase frequently, but may not be a viable option in many markets, as not all markets have a high enough purchasing frequency. If you run a furniture company, for example, most of your customers aren't likely to be repeat business.
A far more common method of offering free shipping is to set a minimum required purchase. "Orders over $99 ship free!" and other similar slogans adorn the websites of many popular retailers, as this model essentially turns the cost of shipping into a discount for the consumer. There is an added benefit for retailers who adopt this method, however, depending on where the free shipping threshold is set. By examining average order size and then setting the threshold just above this, it may be possible to capitalise on customer desire to reach that free shipping threshold by increasing their order size, which obviously translates into a sales boost.
This brings us finally to the most expensive option of the three, which is simply offering free shipping on all purchases. While this is expensive for the retailer, and grows more expensive as shipping costs rise due to other factors such as rising fuel costs, there is a great psychological value in offering free shipping as a sales driver. While many retailers still reject this idea as too expensive, it could be considered as a marketing expense, which makes it more palatable. Again, the viability of this model will depend on what your business offers – in some markets, it could become a huge advantage, whereas in others, the profit margins and average sale sizes may simply be too small to justify the expense.
Posted on April 26th 2013 at 10:39am by Ade

0 Comments
Wednesday 24th April 2013 How Price Comparison Software is Leading to Smarter Shopping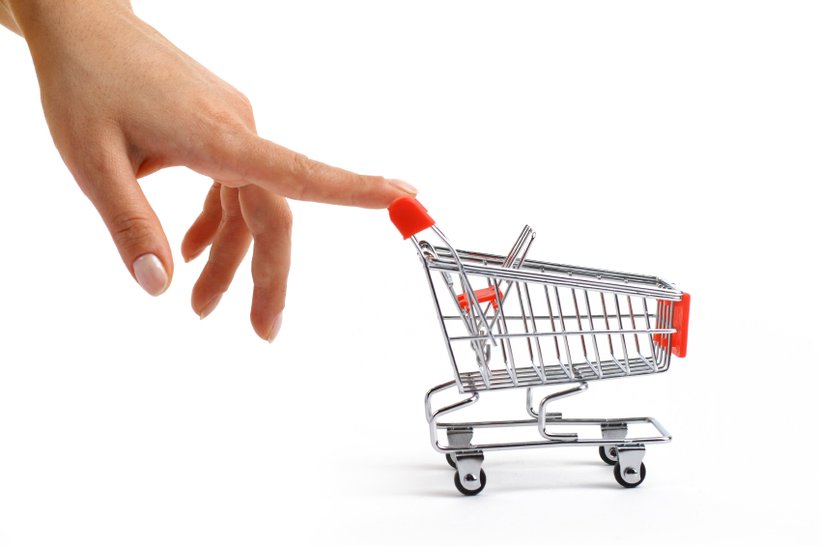 It's no secret that price comparison apps have completely changed the way the retail landscape works. 50% of respondents in a recent market analysis conducted by The Yankee Group said they would leave a store to buy from another retailer with a cheaper price. Initially, this may seem like a danger to retailers, but it really only impacts those who count on brand recognition to drive customer sales. Competitive pricing is absolutely essential in this day and age, and thanks to the widespread adoption of these price comparison apps, cost-conscious consumers can make smarter decisions about where to spend their money.
As part of the same US consumer survey mentioned above, a whopping 65% of consumers polled reported using the internet to research their products before shopping, and 42% consulted price-comparison information before making a purchase. This is further compounded by the fact that one of the most attractive demographics for retailers, those whose household income is over $200,000 USD per year, are even more likely to avoid visiting actual retail establishments in the first place in favour of conducting most of their shopping online.
The potential benefits from this smarter shopping trend don't have to end with price comparison software, however. For those consumers who still want to visit a brick-and-mortar store, additional features such as personalized offers and inventory checks are excellent value-adds for any mobile shopping app. The downside to these potentials is that few retailers are likely to allow a price comparison site such as Amazon or ShopBot access to their private databases, meaning that each retailer will need to develop their own mobile shopping application, a trend which has yet to be embraced by most consumers.
In the end, empowering consumers is always advantageous for the retail market as a whole even if certain individual retailers may not benefit immediately, as increased consumer confidence in an era of financial instability is regarded as a sure sign that we are on the road to global financial recovery. For retailers to stay on track in the age of the smart shopper, they must be able to ensure they stay competitive in their pricing models, and even as consumers gain technological advantages, so do retailers, in the form of competitor price monitoring solutions.
Posted on April 24th 2013 at 02:50pm by Mark

0 Comments
Monday 22nd April 2013 Determining the Best Price for Your Products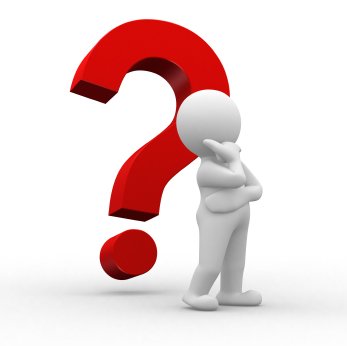 Every product has its price, whether it's a high-end computer or a coffee mug – but determining those prices can be a challenge for any business. It comes down to a constant balancing act between profit margins and the price your customers are actually willing to pay.
In order to find out what price the market will bear, you'll have to be honest with yourself about what products or services you offer. If they are truly unique offerings, then you have a great deal of flexibility when it comes to pricing. This doesn't mean you can set them arbitrarily and expect huge profits, as today's price-conscious consumer is extremely sensitive to high price tags, but you won't need to immediately compete in the marketplace. However, establishing an extremely high profit margin for a unique product will inevitably cause other manufacturers to duplicate your product and undercut your pricing scheme – one only needs to look at the current rivalry between Apple and Samsung in the smartphone and tablet markets to see an example of this process in action.
If you're considering competing in a market that is already well-established, as is usually the case, then your pricing structure has to be modelled off of that of your competitors. In order to determine whether or not this will be profitable, you have to closely examine your profit margins for each product or service you plan to offer. There are three main calculations you'll need to consider: direct cost, break-even product pricing, and profit margin pricing.

Simply put, direct costs are what it actually costs you to purchase the product from a manufacturer. If you are the manufacturer, then the direct cost is the cost of the materials required to produce your product, including the labour cost of any employees. If you're selling at the direct price, you're essentially saying that your time and energy have zero value, so avoid this.
Break-even product pricing is the direct price plus a percentage of your overhead costs, such as rent, electricity, and other necessities that come with their own price tag. If you can sell at the break-even price point, then at least you're not losing any money – but you're definitely not generating a profit, either. Break-even product pricing might be useful if it entices customers to purchase other products at the same time that come with a high profit margin. One common example of this is the North American practice of mobile providers offering smartphone discounts, provided the customer also signs up for a three-year contract. The company "breaks even" on the cost of the device, and then has 3 years to generate profit on the services that must be purchased with the smartphone.
Finally, there is profit pricing – this is where the real money is generated! Profit pricing takes into account your direct costs, overhead costs and your desired profit margin. If you can sell at your chosen profit price and still stay competitive in the marketplace, then you're on your way to success!
Posted on April 22nd 2013 at 01:31pm by Ade

0 Comments
Tuesday 19th February 2013 Gigantic Price Discount
Our pricing intelligence tool monitors thousands of websties and millions of products on a daily basis. Every now and then, we notice some alarming price changes, which can often be quite amusing.
Take a look at this cracking saving on Debenhams, yesterday we saw the price change from £38471.97 to £362.. quite a reduction! We can't imagine many people would have clicked 'Add to Bag' when the price was £38k, but you never know..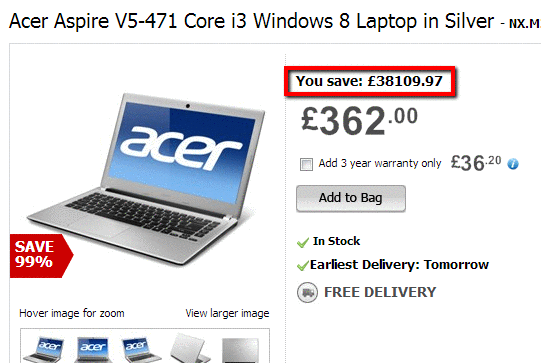 This is clearly an error but just shows you what can slip through the cracks, even on a very large retailer's website.
Posted on February 19th 2013 at 10:12am by Ade

0 Comments
Wednesday 16th January 2013 More Pricing Strategies Than You Can Shake a Stick At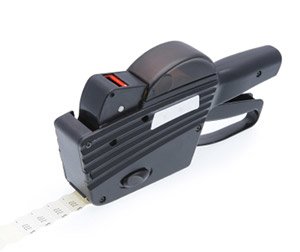 Much like location in the real estate game, retail can often seem to come down to 'pricing, pricing, pricing'. It's one of the most important fundamentals of your business, but for the beginner entrepreneur - and even a few old hands – setting the best possible price for your merchandise can seem like an overwhelming project. We've compiled a few of the most popular and proven strategies to help you make sure you're leveraging all the profit you can from your business.
No matter what strategy you choose, the first step in any pricing plan is to determine your cost, both in terms of total cost of the product you're selling and the cost of operating your business. Obviously, your price needs to take both of these factors into account, or you're going to be out of business in a hurry.
The most popular pricing strategy is mark-up pricing, although it comes in a couple of different flavours. Typically, mark-up pricing involves added a fixed profit percentage to your product cost, sometimes defined by the market or other industry standard. The other version is known as mark-up on retail, and is calculated by dividing the dollar mark-up by the retail price. Whichever method you choose, ensure that the mark-up is large enough to cover unanticipated expenses and sales or discounts.
The next pricing strategy is known as competitive pricing. This strategy is very popular in competitive markets, and depends on some accurate competitor monitoring. Pricing below the competition, also known as 'undercutting', is a convenient way to bring price-conscious consumers to you. Pricing above the competition is another option, but generally only when you have added value that the competition doesn't offer, such as convenience or exceptional service, and in some cases, perceived value.
Psychological pricing is linked to the idea of perceived value, although it is more commonly seen in prices that end in .99 or .97 instead of being rounded up to the nearest figure. Perceived value however is when the customer attaches value to a product that is much higher than the actual cost of the product, as in the case of many high-end consumer electronics.
Multiple pricing is another tactic that is related to psychological pricing, as it often causes customers to increase the volume of their purchases. Typically, offering one of a product at one price and offering three of another at a slight per-unit discount will result in the customer choosing the larger volume option.
Keystone pricing is a pricing strategy that can rarely be used anymore, as market globalization has driven margins down in most industries, but it used to be a common tactic in wholesale industries. It simply means doubling the cost paid (effectively a 100% mark-up), named after the keystone of an arch which was double the length on one side.
One of these strategies will surely fit your business! Remember, it's always a good idea to record your sales data and analyse the value of different pricing possibilities to ensure you're getting the best bottom line possible.
Posted on January 16th 2013 at 05:39pm by Ade

0 Comments