We offer a range of competitor monitoring solutions, all created in order to automate human tasks that are both time consuming and inefficient. In turn, this provides businesses with a competitive advantage resulting in more informed decision making.

Competitor Monitor was started as a solution for one tedious task, checking competitor's websites. Whether it be for price changes, product changes, website changes, news… you name it, people waste their time monitoring it on their competitor's sites.

So we decided to create a product that tells you when your competitors make a change to their website. It could be anything, a new announcement, changes in management, modified product descriptions or even the launch of a new marketing campaign. All you do is add your website to our Change Detect system, and our discreet tool will check their site all day every day, sending you an alert whenever it changes. Alerts are delivered in a clear and concise format which allows you easily compare the old and new content. It is a completely automated way of keeping track of every single page on your competitor's websites, so you have the peace of mind that nothing will go unnoticed.
As soon as a chance takes place, you will get a report like this direct to your inbox: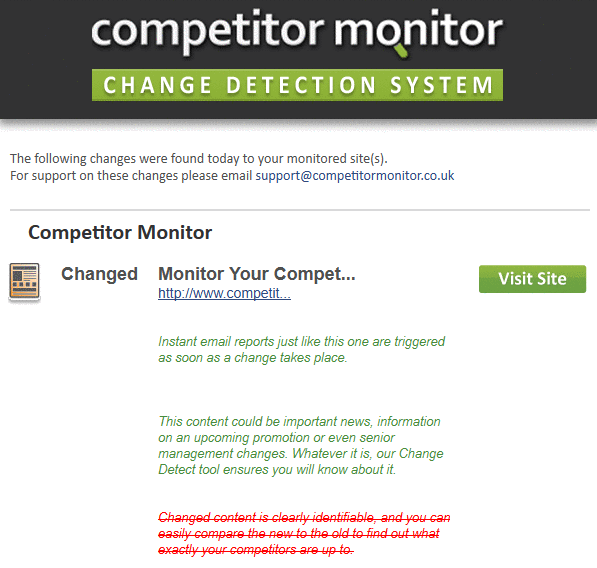 We created this product after speaking with a number of customers who were keeping regular tabs on 7 - 10 competitor websites every single week. As you can imagine, there's only so many pages you can keep track of manually, and for all you know the new content could have been there ages without you having any idea.
Change Detect
is the perfect solution for business that wants to keep up to speed with what their competitors doing. Interested?
Contact us
to find out more.