We've been super busy lately at Competitor Monitor HQ developing an important new feature to our software called 'product matching'. This allows you to link up identical products across various websites so that you can view all of the prices and products together, we'll tell you more in due course.

Anyway, it's been a little while since we posted on our blog so we thought we'd give you ecommerce readers out there some tips on how to better convert your customers.

Our speciality is competitive intelligence, and with the use of our services we allow ecommerce businesses to always have the best possible pricing (this doesn't necessarily mean the lowest pricing) and product offerings on their website. This is a great way to increase conversions, since price is often the first thing people hunt around for when shopping online, but there are still many other ways of boosting conversions and it is best to use a mixture of them all.

It is important to fully understand the customer buying cycle, that way you know what is going through their head at each stage so you will be in a better position to give them a nudge along the way to move them closer to parting with their cash.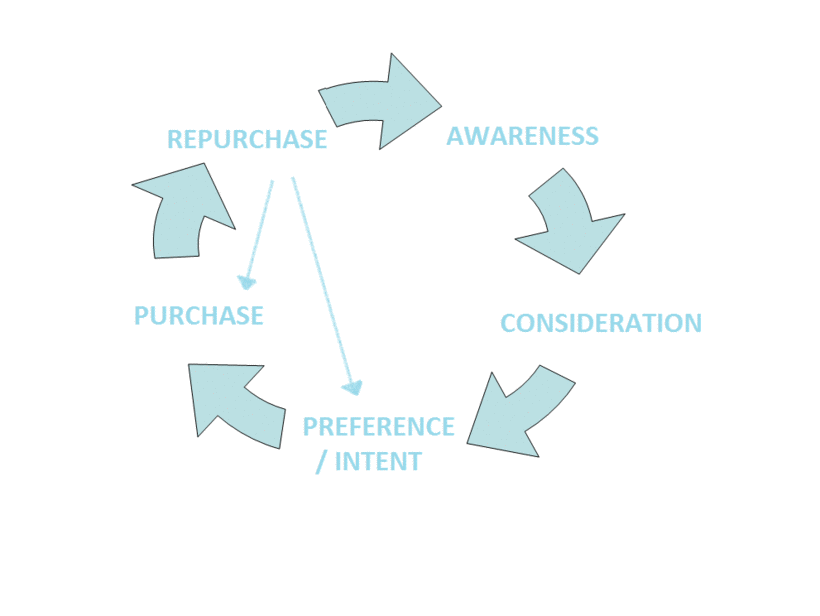 STAGE 1: AWARENESS

The customer becomes aware of their own need for a specific product or service. They may know about this need before going online, or they may realise it from surfing the web. They also realise that you can fulfill that need.
STAGE 2: CONSIDERATION
The next stage is where the customer evaluates your offering, but bear in mind that you are unlikely to be the only company being considered. So this is the stage where they decide, can you really fulfill their need?
STAGE 3: PREFERENCE/INTENT
So the customer has decided they want to make a purchase, and have narrowed down their choice of sites to buy from. So what can you do to gain the customer's preference so that they shift towards intent to buy? Well branding is a good place to start. If your branding is good and they think your site offers the full package, then you stand a good chance. I'm sure you can think of plenty more ideas yourself and it is worthwhile to try different tactics out. Whilst there is probably going to be an investment on your part, unless you try it you will never have a chance of increasing conversions.

STAGE 4: PURCHASE
Need we say more? Just make sure you have a simple payment system in place, no one wants to spend 10 minutes registering before they can buy. Stick to the KISS (keep it simple stupid) way of thinking and you will avoid losing customers at the last minute.
STAGE 5: REPURCHASE
This is a very important stage and links back to intent. Since they have already bought from you it is clear that the brand preference is there, so just keep them happy (LOTS of ways) and they will continue to buy from you! Hopefully :)
Next week we will expand on each of these stages and explain what exactly you can do to use each stage to your marketing advantage.
We will also explain the software development we have been busy with in the coming weeks. Whilst it isn't a new concept as such, the way we are offering will be as it provides a much quicker and easier way of matching than is currently possible elsewhere. What's more, there will be no additional charge for this service, so the prices you see on our
site
won't be changing.