Low income shoppers are flocking to dollar and discount stores like Walmart, Costco and Target like never before. In fact, a study by Bank of America, Merrill Lynch suggests that between 2018 and 2019, spending from low income families in the USA has increased by 6% compared to the previous year. Some analysts have suggested that this is why discount outlets like Costco, Walmart and Target are thriving at the moment, even in spite of the so-called retail apocalypse and the latest wave of Trump Tariffs on everyday items like nappies, food items and footwear, which have hit discount retailers particularly hard.
However, the question of why Walmart, Target and Costco are each increasing both their revenue and market share at the moment is complex and multi-faceted. The article will review each brand's business strategies over the past few years to consider what the main reasons for sustained financial success is. The question of whether the Bank of America Merrill Lynch statistic is the sole reason for their continued success will be evaluated.
Why are Walmart, Target and Costco doing so well?
High Street Retail Decline?
Not all stores are impacted equally by the decline of high street shopping, which has seen hundreds of thousands of shoppers express a preference for online as opposed to in-store shopping. In fact, some high street stores are thriving whereas others have foundered which suggests that stores that have been able to adapt to changing customer demands for convenience and experiential shopping are doing better than those who have not reacted at all to the retail apocalypse. Walmart, Costco and Target have each, in their own way resisted the high street retail decline by catering to the needs and preferences of modern shoppers by investing in their supply chains, delivery and collection processes and in the development and remodelling of their stores.
Walmart
Walmart has enjoyed rapid growth in terms of market share and profits in both 2018 and 2019. In a period of one year prior to January 2019 Walmart generated a total revenue of $514.4 bn which has increased from $500.3bn generated in the same period the previous year. Additionally, Ecommerce sales grew by 40% in 2019. This is the highest revenue reported by Walmart in a decade.
Walmart has driven costs down through an extensive investment in AI, including AI that stocks and restocks shelves thus lowering labor and administrative costs as well as reducing shrinkage from theft.
Further investment has seen the creation of new Walmart stores with $914 million being invested in new store building in 2017, and a further $313 million invested in 2018. There has also been a massive investment in store remodelling since 2017. In 2018 the chain spent $2.1 bn on store remodelling with $2bn being spent in 2017. All of this investment is designed to capture footfall from customers looking for convenient shopping experiences including omni-channel shopping which is accommodated in all of the remodelled and newly built stores.
The chain has also invested heavily in a customer-centric approach, changing its system of grocery delivery to enable customers to order groceries online and collect them at a time that suits them. The chain now accommodates grocery pickup from 2100 stores and offers grocery delivery from 800 locations across the USA. Grocery represents more than 50% of the chain's net sales from within the USA and in 2019 there are plans for further expansion of the Walmart grocery delivery service. Walmart plans to partner with 800 more stores in 2019 in order to expand its delivery service.
Walmart invested in a new digital approach in 2017 and this has also paid dividends as in-store customers enjoy a seamless experience across digital platforms and the in-store experience.
As the Trump tariffs
begin to impact items
that Walmart typically sells, Walmart has steadied itself by using a specialist technology to track supplier pricing and price increases that are attributable to the tariffs. Product prices have been adjusted accordingly, although the lion's share of the tariffs have been passed on to the customer (which Walmart signalled it would do in a letter to President Trump in 2019). Analysts have suggested that the impact of the tariffs on Walmart as a whole have also been lessened by a decline in the value of currencies in emerging markets and by a recent boost to sales within in-house apparel, food items and homewares.
Costco
Between 2015 and 2019 the value of
Costco shares
more than doubled with income coming from membership fees as well as sales of products both online and in-store. Like Walmart, Costco has benefitted from the adoption of a more customer-centric approach since 2017 and stronger digital sales has helped to support the growth of its network of bricks and mortar stores. Like its counterparts Target and Walmart, Costco has been expending its store network. In 2019, Costco opened 10 new stores, including its first store in China.
Analysts have reported
that Costco currently has a membership renewal rate of 90.9% in the US and Canada. Internationally, the brand boasts a renewal rate of 88.4%. Membership renewal rates within the US and Canada and internationally have steadily increased over the past 18 months. Memberships have also grown, and as of 2019, Costco has 98.5 million memberships. Membership numbers, in addition to membership renewals have seen quarter on quarter growth over 2018-2019.
Costco has created an Executive membership option, with members who pay a slightly higher membership fee benefitting from a 2% cashback on certain product lines at its warehouses and online. This type of membership has also seen consecutive quarter on quarter growth.
Costco revenue is also bolstered because its business model both rewards and encourages loyalty. The chain charges low membership fees which act as an incentive for families to shop at the stores. Research suggests that by charging a fee Costco gets an additional boost from its paying customers who will seek to gain the most value for the expenditure over the course of a year. The membership fee has also been recognised as a means of reducing shrinkage through theft, with Costco being better able to trace thieves and the exchange of personal information acting as a further deterrent to prospective thieves. Research on this specific topic conducted in 2014 found that theft was much less of a problem for Costco compared to the average discount store in the USA.
Customers have also been flocking to the store to take advantage of the seamless and integrated processes of shopping both in-store and online. Costco's incredibly cheap food court is an additional draw for families.
Target
Like its rivals Walmart and Costco, Target has enjoyed a surge in growth and market share as 2019 draws to a close. Total revenues rose in 2018 and came to $16.78 bn in 2019. This growth and strong sales performance, both in-store and online has been attributed to the new
"click and collect" system
of curbside shopping collection introduced by the chain, its new back to school offerings, new own brand product lines and a stronger digital presence. As for Target stores, sales from these stores have risen for 8 consecutive quarters and in the last 12 months, and sales in target stores have grown by 4.2% in 2019. Additionally, the average transaction amount has increased by 0.5% since 2018 and the overall amount of transactions has also increased steadily since 2018.
Target's online offering is particularly successful – surging by 42% as the end of 2019 approaches, as it offers something Amazon doesn't – curbside collection of parcels ordered online. The brand also experienced stronger than expected sales in the baby and toys product categories.
Target is especially impacted by the most recent wave of
Trump Tariffs
on footwear and apparel, however this has not diminished its share price, nor its market share. Target has lessened the impact of the Trump taxes by expanding into different product categories, namely sleepwear and underwear. Its environmentally friendly cleaning product line has also performed better than expected in 2019, providing much needed financial buffering to see it through the uncertainty of the tariffs. A 'limited edition' line of accessories and apparel – Vineyard Vines, has also performed much better than expected, drawing in sales in times of great economic uncertainty.
As revenues rise, Target is continuously investing in its supply chains, stores and website to provide a better experience for shoppers and to try to encourage more loyalty from customers.
Walmart, Costco and Target bricks and mortar stores
What is notable across Costco, Walmart and Target is how each brand has expanded its existing network of stores and remodelled much of their existing infrastructures. The three brands have taken advantage of opportunities to cater to growing consumer preferences for flexible collection and delivery options and made room to display own brand offerings, in-store. This has accommodated the growth spurts being experienced by each brand and paved the way for further revenue increases in years to come.
"Dead malls" and the discount store payoff
In the USA, shopping malls have been hit by the decline of high street shopping.
Research by Coresight Group
suggests that more than 7150 stores have closed on the US high street in 2019, which is up from 5524 in 2018, but down from a record for store closures which occurred in 2017, when 8139 store closures were recorded.
Struggling retailers operating from malls whose profits are declining due to the retail apocalypse find it especially hard to pay rent. This has been having a knock-on effect on the actual mall from which these struggling vendors are operating from. With rents not paid, shopping malls are swiftly going out of business, too. This phenomenon is known as "dead mall" or ghost malls, where US malls are closing their doors and leaving large buildings abandoned across the USA. Part of the problem is that so-called "lead stores" (usually a large department store like Macy's) which are stores that are designed to draw crowds to malls are closing and with the lead store closed the smaller surrounding stores suffer an even more severe decline in footfall, creating a vicious cycle which eventually takes a toll on the mall itself.
Unlike the so-called "retail apocalypse" which has seen some signs of reversing as some brands encourage footfall back to their flagship stores, malls continue to close consistently. A
report by Credit Suisse
in 2017 estimated that as many as one quarter of the total number of malls currently operating in the USA will shut down in the near future as a result of store closures.
However, this "dead mall" trend has delivered a surprising payoff to discount stores like Walmart, Costco and Target because the shoppers who would normally frequent so called "dead malls" are flocking to these discount brands bricks and mortar stores instead.
These trends towards shopping in discount stores are being dubbed the "discount store decade" and analysts expect the influx to discount stores to increase as shopping malls across the USA continue to close. In addition to this, analysts have noted that lower-income families are spending more. Bank of America Merrill Lynch has published a research paper which indicates a surge in the amount that lower-income families are spending annually. The research suggests that spending from these types of families has grown 6% in 2019, compared to spending in 2018. This outpaces the growth in spending from both middle income and upper-income families over the same period.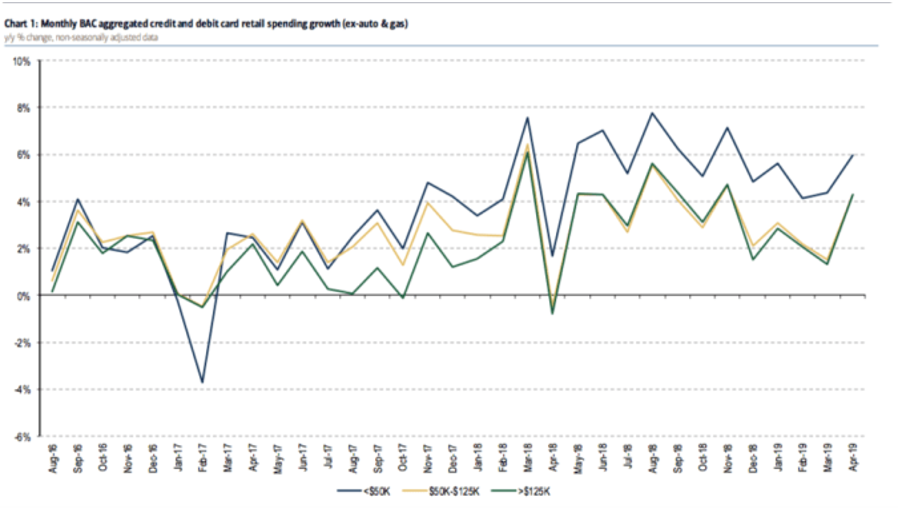 Lower income consumer spending growth in 2018 and 2019.
Bank of America
However, it is worth noting that this research was carried out before the latest wave of "Trump Tariffs", which are targeting more and more everyday items that are sold in Walmart, Target and Costco. The
latest round of tariffs
that Trump has announced in late 2019 will hit nappies, shoes, clothes and food amongst other everyday items that are sold in discount stores.
Stores have to face the tough decision of whether to absorb these costs, or whether to pass them on to customers. Passing costs like these on to customers could have implications for the surge in low-income families shopping at discount stores like Walmart and Costco.
Moreover, competition between discount stores is fierce, and likely to get even more intense as the latest round of Trump tariffs bite.
Recent research
has suggested that dollar stores like Dollar Tree are encroaching on Walmart market share. Marketing platform InMarket analysed date from 50 million mobile devices and found that low-income family shoppers were more likely to shop in Family Dollar and Dollar General (both owned by Dollar Tree) than they were to shop at Walmart. The research defined "low – income" families as families bringing in less than $44,999 in income annually. Dollar Tree is expanding to cope with the increased demand. Its network of 16,000 stores in 44 US states is set to be expanded by nearly 1000 stores in 2019, with 1000 additional stores being remodelled in 2019.
Is the surge in low income shoppers shopping in discount stores the reason why Target, Walmart and Costco are doing well?
In short, no, the surge in low income shoppers coming into discount stores like Walmart, Target and Costco is not the single reason why these stores are thriving. Increased spending from low income families is certainly a factor that has helped each brand to grow their revenues and market share over 2018 and 2019, but the reasons for the success of these three brands are much more wide-ranging and multi-faceted.
These brands are all doing well and experiencing increases in their market share, footfall and sales because they are listening to their customers and catering for their needs and preferences. This is reflected in the fact that Walmart, Costco and Target have each increased their network of outlets and have taken steps to remodel existing outlets. There has been much investment in delivery and collection facilities, digital facilities and Walmart and Target have invested in several own brand product lines which have sold very well over 2018 and 2019.
All three discount operators have benefited from the "dead mall" phenomenon, which is the closure of huge swatches of malls across the USA since 2017. Customers who would normally have done the majority of their shopping in malls have had to find new places to shop and discount shops have like Costco, Target and Walmart have captured many new customers by providing a popular alternative to mall shopping.
Walmart, Target and Costco have taken steps to insulate themselves from the new wave of tariffs that have come into operation due to the US-China trade war. Tariffs on nappies, footwear, food items and many other everyday items sold every day in these discount stores have hit profit margins and forced the brands to think of novel ways to create new income streams, for example Target and Walmart have done particularly well out of sales of new "own brand" product lines, not impacted by the fresh wave of tariffs.
What is in evidence across all three discount brands is the ability to adapt quickly to changing economic conditions and consistent delivery of what customers want, the way they want it. This is what is driving the success of each brand, not just one, albeit welcome, surge in spending from low income families.