The top 10 performers in online retail in the USA,
identified by Forbes in 2017
as Amazon, Ebay, Apple, Walmart, Home Depot, Best Buy, Macy's, QVC, Costco and Wayfair have each seen varying levels of growth since 2017. In 2019, each continues to
occupy a position as top 10 online retailers
, but some brands, for example, Walmart and Amazon are performing better in 2019.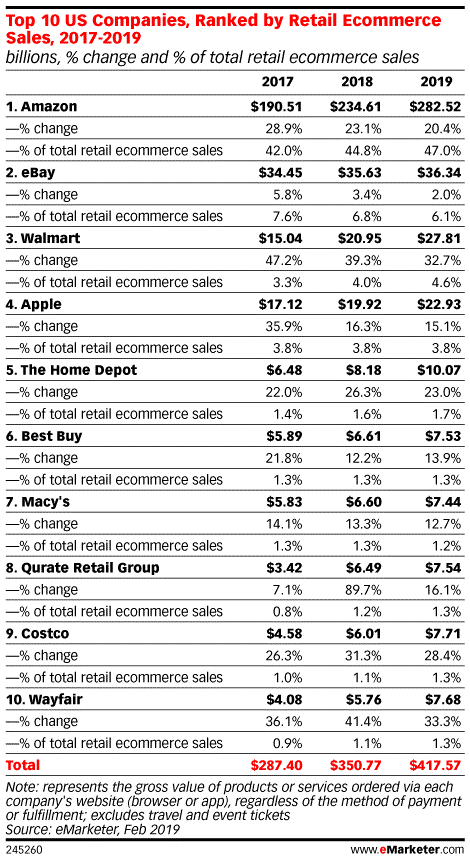 As reflected in Amazon's new clicks and mortar approach, the most successful retailers are constantly changing to meet changing customer preferences and are using tech to solve customer problems. This article will consider the top performing online retailers in the USA, the reasons for their success and what lessons can be learned from them.
How retailers are stimulating growth in 2019
As total e-commerce retail spend continues to grow relative to retail spend in bricks and mortar stores, retailers are clamoring to attract more customers and struggling to understand just what changes are needed to encourage faster growth and higher levels of customer loyalty. Measures shown to be effective in attracting more footfall into bricks and mortar stores, include the development of tech available in-store (essentially making the in-store experience more novel and not capable of replication online, for example digital walls for enhanced customer service and VR experiences), the drive towards personalisation seen in the growth of retailer apps and innovations that solve common customer problems (for example the tech designed to dispense with trying on makeup designed by large makeup retailers). Growth in digital sales is spurred by customer centric approaches, a focus on ensuring customer convenience, high levels of trust in a brand, fast and varied delivery options, fast, user-friendly websites and smart pricing decisions.
Amazon (47% of the US online retail market in 2019)
Leagues ahead of any other online retailer is Amazon, which has carved out a reputation for speedy and skillful delivery of a plethora of items to buyers all over the world.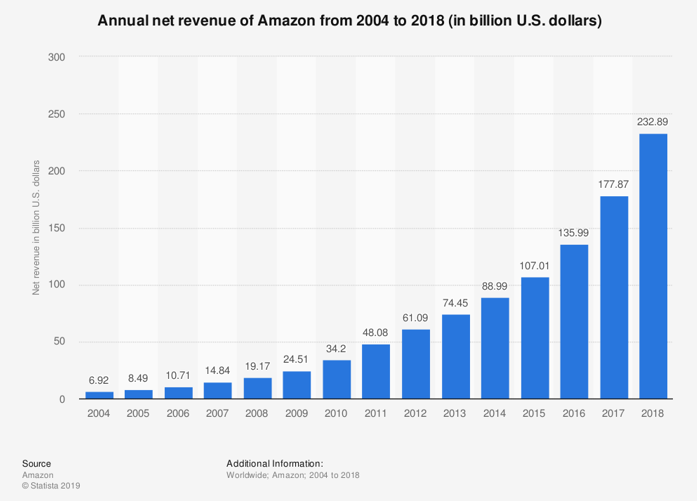 In 2017 Amazon held 43.5% of the e-commerce market and 2018 saw this figure increase to between 47-49%. Amazon is also reported to hold 5% of the global retail market for all types of retail spend and there are 5 million marketplace sellers registered on the Amazon website. This gargantuan figure and the rate at which it continues to grow is attributable to a number of factors, for example, Amazon is known to have invested heavily in a customer centric approach to customer service to build trust with new customers and to inspire brand loyalty among its existing customer base. One of the key features of this customer centric approach is the 'online to doorstep' fulfillment network, developed by Amazon. Customers have a wide variety of fulfillment options available to them, including next day delivery, special delivery and free delivery with Amazon Prime membership.
The Amazon growth strategy relies heavily on data, so heavily, in fact that the strategy itself has attracted much criticism and the watchful eye of US regulators. Amazon analyses point of sale data, and uses the data to predict what items customers may wish to purchase in conjunction with the items that are placed in their baskets. This presents Amazon with unique upselling and cross-selling opportunities. Controversially, this point of sale data pertains to the sales of Amazon's own clients – their marketplace sellers. Some believe that the data is, in fact the property of the individual marketplace retailer, from whom Amazon accepts fees, and as such should not be appropriated by Amazon without the permission of the individual retailer.
Amazon has also launched a range of Amazon Basics own brands within several sectors including toiletries and clothing, and these products are unique in that they are placed in direct competition with Amazon's own customers' product lines. As such, Amazon is both competitor and service provider to the millions of marketplace sellers across the globe. What makes the situation even more controversial is that Amazon sets its pricing for these products, in part by analysing point of sale data relating to the products sold by its own customers. The assertion that fee-paying Amazon marketplace sellers have some sort of proprietary claim to this data has not gone away, and some experts even speculate that it could harm Amazon market share in years to come, particularly if the regulator imposes sanctions on the brand as a result of their ongoing investigations.
Another reason for Amazon's success is its flexibility and adaptability to market conditions. Take the Clicks and Mortar initiative Amazon is launching in conjunction with several partner organisations within the UK, where businesses have an opportunity to rent commercial space from which to build a bricks and mortar retail outlet. This concept is an attempt to adapt to rapidly changing high street market conditions, which in recent years have been less favourable for bricks and mortar outlets. Clicks and mortar is a slight variation of the traditional store space. The idea is that "up and coming" brands can operate within small, supportive communities of like-minded entrepreneurs to build successful businesses, in high tech spaces.
Threats to Amazon's growth include the entry of Shopify as a direct competitor to Amazon's unique fulfillment network. Shopify announced in 2019 that it had committed $1 billion USD to create a competitor fulfillment network. From its own announcement, it is clear that Shopify consider Amazon's controversial data strategy as an opportunity to poach some of its business users, especially in light of widespread discontent about how Amazon processes data and the tension this continues to fuel. Furthermore, Shopify offer an array of marketing tools that aren't really matched by Amazon. The company has been experiencing exponential growth since its inception. Now, it boasts 800,000 users – a figure that continues to grow. In 2018, Shopify held peak sales volume per minute on Black Friday, at $870,000 per minute. Whereas, Amazon seems to focus on customer centricity in terms of the end customer receiving their products sold, many agree that it neglects the business marketplace customer by comparison, despite their pivotal role in the overall success of the Amazon brand. Shopify, on the other hand provides a full range of marketing solutions to business users which remains unmatched by Amazon, in addition to responsive customer service for business users with dedicated customer support in the form of email, chat and phone.
2. EBay (6.8 % of the US online retail market in 2018)
Ebay is unique marketplace, which generates revenues from seller fees comprising listing fees and commissions taken on individual sales. Ebay holds the second largest share of the US e-commerce market, holding 6.8% of the e-commerce market share in 2018 and 6.1% of market share in 2019, compared to Amazon, which holds almost 50%.
As shown in the chart below, Ebay has struggled to hold on to its market share as it entered 2019, although it has benefitted from year on year growth in active users (180 million users as of 2019). Said to be losing market share to Amazon, Walmart and Target, Ebay doesn't have the high standards for customer care, or indeed the customer centric approach that has won so many loyal customers for Amazon.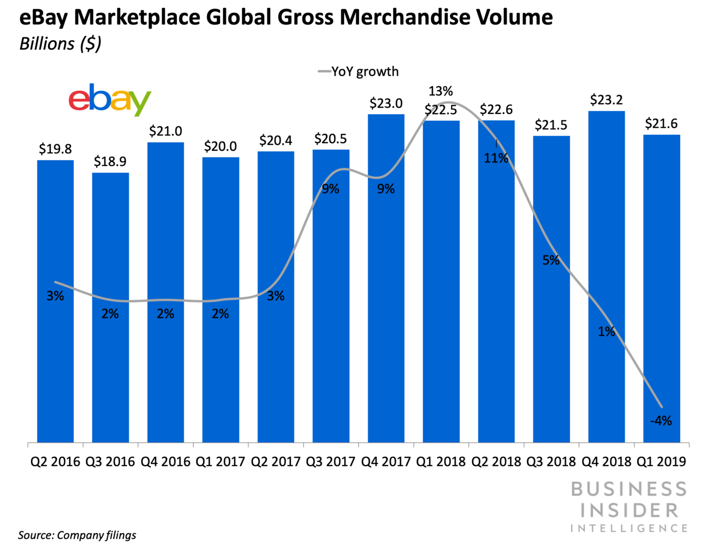 Ebay is also stymied by comparison to Amazon on account of its relative static business model. Whereas Amazon has regularly and successfully reinvented its approach to business over the last 10 years, rendering it almost unrecognisable compared to its 10 year old self, the same cannot be said for Ebay. Amazon has invested heavily in its fulfillment centres, its infrastructure and has developed a number of new concepts like the Amazon Prime feature on its website, the Clicks and Mortar scheme, AI and data driven strategies. By comparison, Ebay has grown by expanding its product category, with no major changes to its infrastructure or operations.
Ebay is also particularly reliant on its retailers for revenue. By comparison, Amazon has created several new, and novel income streams in recent years, including their foray into own brands (the Amazon Basics range) and their entry into the film and TV industry. In doing this Amazon has effectively reduced the risks to their brand that a mass exodus of customers would create. Ebay can't claim the same benefit and many agree this places it in a far riskier position.
3. Walmart (4.6% of the US online retail market in 2019)
Walmart has seen strong growth in 2018 and 2019, with its market share increasing from 3.3% in 2017 to 4.6% in 2019. A large portion of this growth has been attributed to strong digital sales growth, which has seen a 39.4 % increase in 2018.
Much of the brand's success is due to strong grocery sales, and a pay-off from large investments in its digital sales infrastructure from 2017. The investment has enabled Walmart to deliver faster online shipping, which has mirrored Amazon's successful customer-centric approach.
In the USA, Walmart changed their system of grocery store pickup to enable customers to order their groceries online and then collect them at a later time, and this has resulted in increased sales and better sales forecasts. Heavy investment in automation has also cut labour costs and this is a major factor in the sales growth spurt being enjoyed by Walmart.
4. Apple (3.8 % of the US online retail market in 2018)
With its unique combination of bricks and mortar outlets and its strong digital presence, Apple continues to retain a large portion of the global online retail market, and appears to be recovering very well after its growth suddenly stalled in 2016.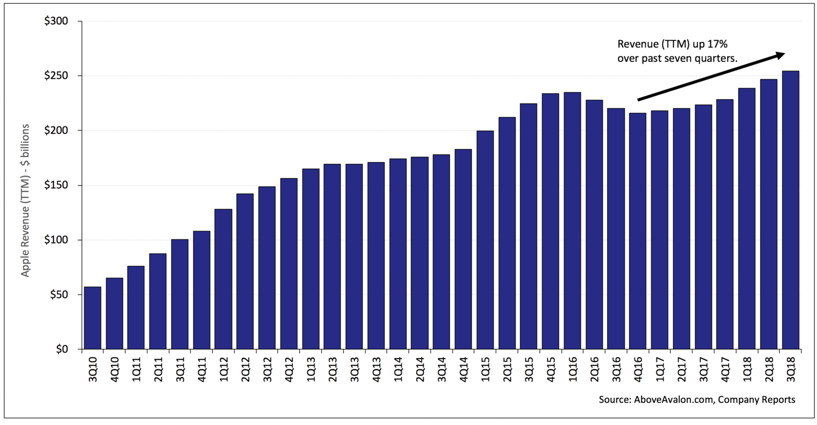 Strong i-phone sales have bolstered Apple's position, particularly since the end of 2017, which i-Phone sales began to pick up after a period of stagnation. Nevertheless, between mid-2017 and mid-2018 the iPhone has accounted for more than 50% of Apple's total revenues.
Apple also generates revenues from their AppleCare services, the Apple App Store and licensing. Apple also benefits from a growing wearables market (responsible for 11% of Apple's overall growth in 2017-2018), with burgeoning sales for its AirPod and Apple Watch products set to increase further in 2019.
Apple's share of the online retail market has been overtaken by Walmart in 2018 and 2019. Walmart's share of the online retail market increased from 3.3% in 2017, to over 4.5% in 2019, whereas Apple by comparison has enjoyed little substantive growth in terms of market share, with their share of the US online retail market remaining at 3.8% between 2017-2019.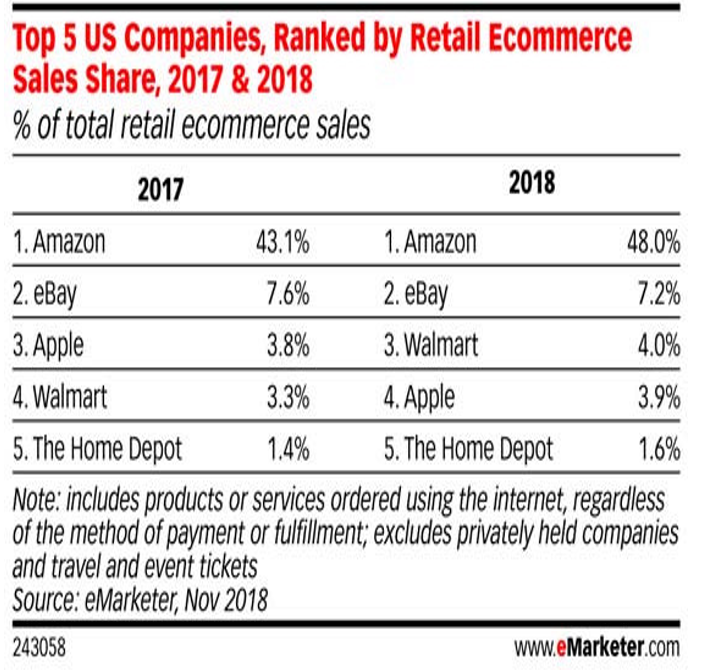 5. Home Depot (1.7% of the US online retail market in 2019)
Home Depot has experienced a growth spurt in the last 3 years, positioning it in the top 10 online retailers in 2019, with a 1.7% share of the total US retail market. Forbes reports that Home Depot shares have increased by 14.4%, by 94.6 billion USD to 108.2 billion USD in 2018, with revenues expected to increase by 2.9%, to 111.3 billion USD in 2019.
The burst of growth is attributed to stronger sales in their stores, per square foot compared to earlier years. Otherwise Home Depot has invested heavily in its infrastructure to deliver a better, faster and more convenient service to its customers. Changes Home Depot has introduced to increase footfall include the addition of "pickup lockers" in 1,100 locations, so that customers can order their items online and pick them up at a convenient time. The brand has made so-called "front-end" store improvements, designed to reduce queuing in stores and enable customers to make purchases faster.
6. Best Buy (1.3% of the US online retail market in 2019)
Many analysts agreed that Best Buy was headed for bankruptcy, but after a company wide turnaround strategy was implemented, the brand appears to be recovering as it enters 2019. The turnaround strategy included a complete corporate restructure, cost cutting and improvements to customer service. Best Buy has yet to see any substantive growth as a result of its turnaround plan, however market share has remained stable at 1.3% in 2017, 2018 and 2019.
7. QVC Group (1.3% of the US online retail market in 2019)
Like many brands occupying positions in the top 10 online retailers in the USA, QVC has experienced exponential growth over the last few years, particularly within the accessories, beauty and apparel sectors. In 2018, QVC reported strong customer growth and growing digital and mobile sales, after a company overhaul saw the management changed and a 1% increase in total company revenue, to 4.37 billion USD in 2018.
8. Costco (1.3% of the US online retail market in 2019)
According to Forbes, the value of Costco shares has doubled since 2015. In the 2015 financial year Costco reported revenues totaling 116.2 billion USD, which shot to 141.6 billion USD in 2019. Forecasts for the brand's continued total revenue growth are positive, and Costco's total revenue is expected to rise to 150.5 billion USD in 2019.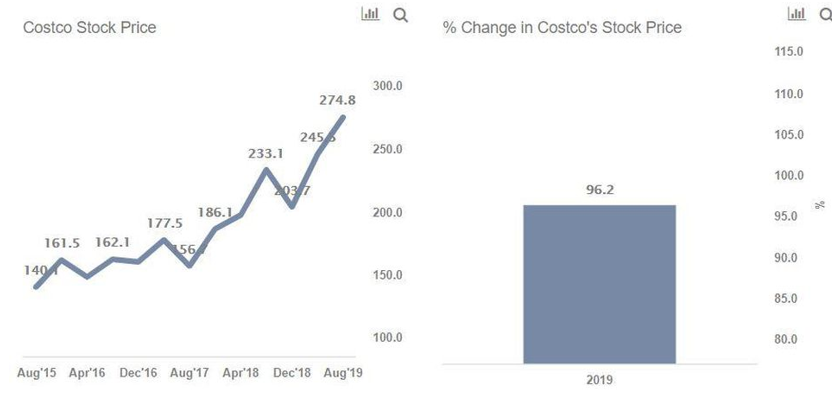 9. Macy's (1.2% of the US online retail market)
The well-known department store chain occupies a top ten position in terms of the biggest US online sellers in 2019, but this is somewhat misleading because Macy's market share and overall share price is in overall decline. In the later half of 2018 Macy's issued a "turnaround plan" which includes the closure of over 100 of its famous department stores. Its plans to revive its brand include an investment in 'store experience' business B8ta. B8ta plan to enhance the Macy's customer in-store experience by focusing on innovations and reducing the density of products on display to create more user-friendly in-store experiences. Otherwise, Macy's has focused on creating new and exciting experiences for their customers. One innovation that has proven to be popular is the Virtual Reality facility that allows customers to "see" how furniture would look like in their homes.
In terms of their digital sales position, in 2019, Macy's has reported a 40th consecutive quarter of double-digit e-commerce growth. Much of this growth is attributable to sales made in mobile apps, which generated $1 billion USD in sales in 2018. Macy's mobile app sales is expected to grow by 50% in 2019.
10. Wayfair (from 1.1% of the US online retail market in 2018 to 1.3% in 2019)
Wayfair has seen strong sales growth as it enters 2019, a payoff from increased spending on advertising. Total revenues in the second quarter of 2018 were 1.66 billion USD, compared to 2.34 billion USD in the second quarter of 2019. Wayfair has also seen payoffs associated with expansion of its infrastructure and fulfillment strategy, with the brand hiring hundreds of fulfillment operatives in 2018 and 2019.
Top performing online retailers in the USA
As each brand enters 2019, they have held on to their positions in the top 10 online retailers in the USA, but some have seen better growth than others, for example Amazon which saw growth from 43.5% of total US online retail market share in 2017 to almost 50% by 2019. Overall, brands that have invested in more customer – centric approaches and more convenient fulfillment strategies for example Walmart's faster online shipping and new pickup points, and Home Depot's new network on customer pickup points have seen growth forecasts soar, as the brands continue to align with customer preferences for convenience and experiential shopping. Walmart saw a huge payoff from its investment in automation and fulfillment strategy and has managed to push Apple into 4th position as of 2019.
With its heavy reliance on bricks and mortar stores, Macy's position is the most precarious in 2019. Its overall share price continues to decline despite the implementation of a turnaround plan in 2018. Other analysts have expressed concern regarding Ebay's strong reliance on retailers and established revenue streams to generate profit, which can be contrasted with Amazon's multi-faceted approach and entry into new market segments like media.