The growth of Black Friday, the biggest shopping event of the American retail calendar from a U.S. only concept to an established feature on the UK retail calendar demonstrates the massive appetite UK retailers, both large and small, have in exploiting opportunities to engage Christmas shoppers early, increase sales and attract new customers.
Research by Statista highlighted price as the biggest motivating factor for UK Consumer purchases made on Black Friday 2015 with the average shopper spending £176 with a majority spending less than £100. The opportunity for consumers to grab the best deals ready for Christmas also featured as a key purchase motivator.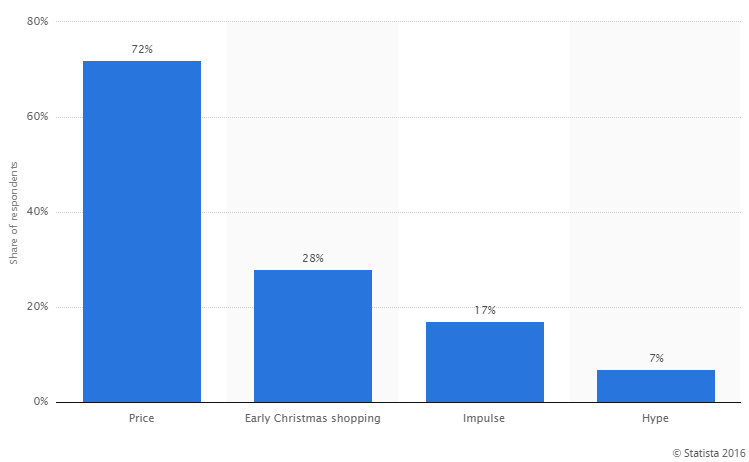 The online shopping tradition hit £1.1bn sales in 2015, up 36% on 2014 and is predicted to break single day records for online sales in the UK cumulating in over £5bn online spend over the "Black Five Day Week" between the 24th and 28th November 2016. Although nearly a third of retailers in the United Kingdom and United States firmly believe that Black Friday is not profitable or is it sustainable, consumer appetite dictates that it is here to stay.
Retailers to watch by their retail classification.
Amazon (Super Retailer)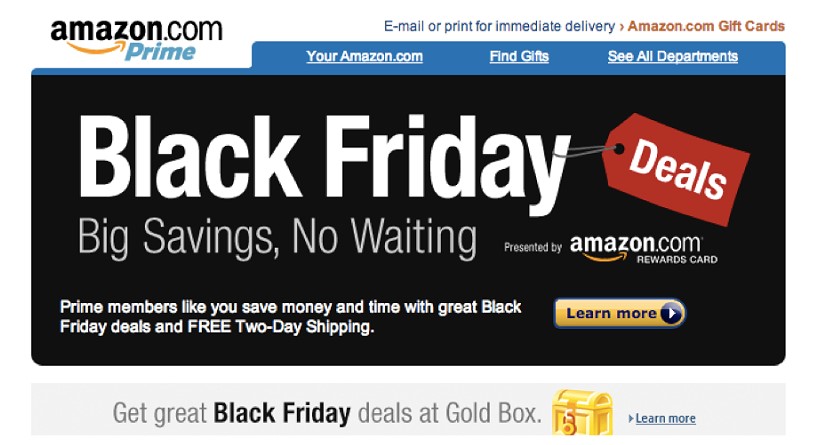 Amazon are pioneers of the Black Friday tradition in the UK, introducing the shopping phenomenon in 2010 and have gone some way to ensure the Amazon brand is synonymous with the "Black Friday". Black Friday 2015 was hailed as Amazon's most successful single trading day ever in the UK with over 6 million items ordered from their website and over 60% of shoppers in the UK making a purchase from their website, beating their 2014 record of 5.5 million items sold (approximately selling 64 items per second). With a strong brand, reputation and good customer experience, Amazon is the retailer to beat this Black Friday 2016.
Argos (Multichannel Retailer)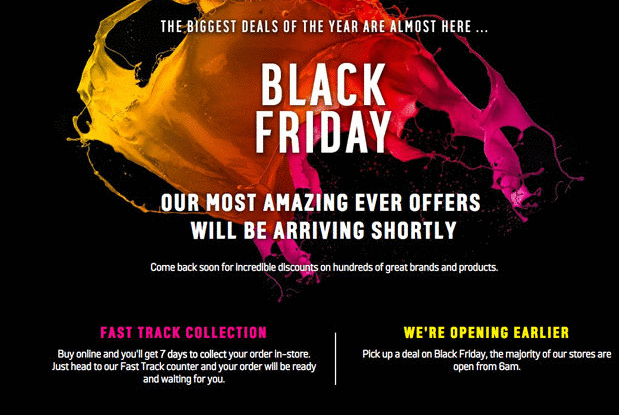 Arguably the UK's largest multichannel retailer, Argos could turn up the heat as they look to maximize sales opportunities over Black Friday 2016. The retail giant has continued to grow in popularity over this period with a 45% increase in sales driven by a heavy discounting strategy and will look to out maneuver the competition in 2016 by starting their sales before Black Friday and extending beyond Cyber Monday especially as they look to forecast and manage product discount and website traffic volumes. Retailers looking to compete with Argos must be prepared to offer deep discounts and ensure competitor price monitoring plays a central part of their pricing intelligence.
ASDA (Supermarket)

One of the first retailers to offer Black Friday deals in the UK after Amazon, ASDA is certainly one to watch for Black Friday 2016. Their decision to not offer any Black Friday deals in November 2015, opting for an alternative discount strategy focused over the Christmas period, saw like for like sales drop 5.8% in the 13 weeks leading up to January 1st. This was reported as the poorest quarterly sales performance ever experienced by the business. Regardless of their reluctance to participate, ASDA may have their hands forced based on their 2015 performance during the same period. Let's face it, consumers will be in the mood to spend, and spend big.
ASOS (Online Only Retailer)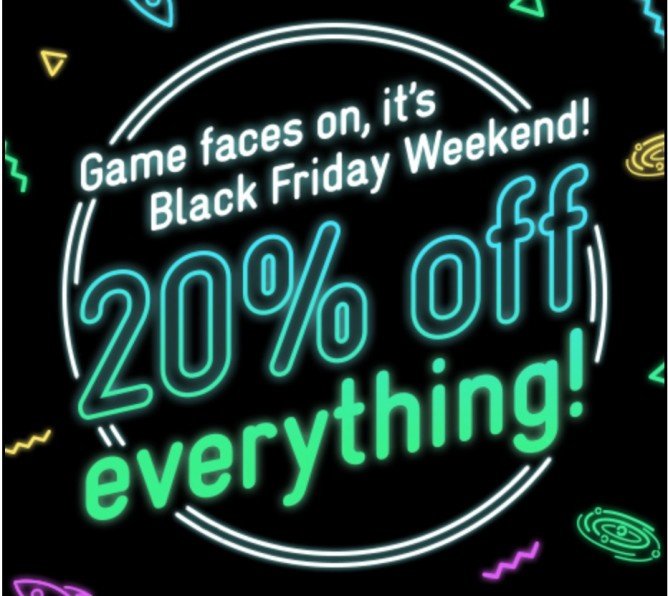 The AIM listed online fashion retailer has been a very active contributor to the Black Friday movement and November 2016 will be no different. Admittedly "Autumn and winter fashion is always tricky to predict and tricky to plan", but with plans to invest £80m in technology and distribution within the next year, ASOS seem to be geared to service more customer demand quicker. The fashion retailer reportedly experienced 120 percent increase in mobile app usage and 85 percent increase over the Black Friday weekend in 2015. Keeping things simple, ASOS opted for a 20 percent discount strategy across all products for Black Friday 2015 including outlet items which were already discounted by 70 percent off in some cases, creating a win scenario for fashion conscious consumers. Competitor Monitor expects the same or at least a similar strategy to be executed by the retailer for Black Friday 2016.
John Lewis (Department Store Retailer)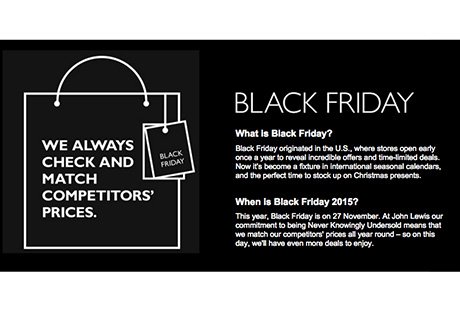 Arguably UK's most recognized department store, John Lewis have demonstrated their immense commitment to Black Friday over the years and Competitor Monitor believes that 2016's event will be no different. Their stance on "Never Knowingly Undersold" makes the department store retailer the first port of call for consumers hungry for the best deals from a retailer with a reputation for exceptional customer service who will not be beaten on price. The importance placed on price monitoring and competitor monitoring technologies undoubtedly played a key part in John Lewis 2015 Black Friday success, hailed by Managing Director, Andy Street as "our biggest week by a mile" where at its peak, online sales reached £75,000 per minute. Customers can expect big discounts on technology and household products.
Here to stay
Black Friday 2016 is predicted to be the first £1 Billion sales day in the UK and this is not surprising looking at the momentum this event has gathered over the past five years. Retailers, regardless of classification simply cannot afford to be absent from what is becoming a landmark occasion for consumers who are desperate to spend and grab the best deals they can.
Price monitoring is evidently crucial to retailers staying competitive while maximizing sales and profits over the Black Friday period. The opportunity to gain visibility on their competitors pricing, assortment availability and promotional bundles will ensure intelligent retailers offer the right products, at the right time and at the right price to increase sales volume and cease opportunities to maximize profits.