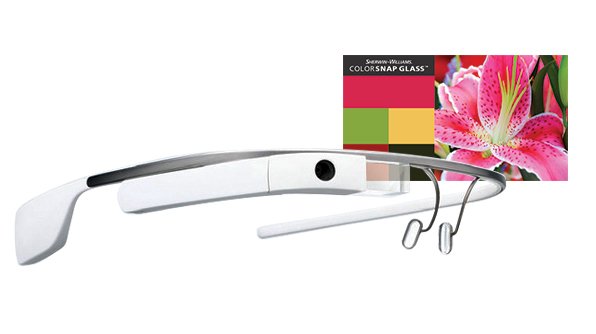 We've been talking a great deal lately about the dramatic expansions in mobile commerce lately, and the even more incredible potential that awaits just over the horizon. With the ubiquity of mobile phones and the early successes that many retailers have already begun to enjoy, it's no surprise that huge names such as Facebook, Google and Paypal have had their interest piqued by the potentials of the mobile commerce sector. But what about those who are looking even farther ahead into the future, to the place where mobile phones are taking on new and exciting shapes of their own?
Sherwin-Williams, a well-known paint manufacturer, has long had an application named 'ColorSnap', designed for mobiles that helps customers pick out paint colours for their various interior spaces from any photograph they take with their mobile cameras. But at the end of September, they upped the ante by releasing a version of ColorSnap for Google's new cutting edge wearable computing project, Google Glass. It's a whole new level of real-world shopping integration that trumps any of the mobile offerings currently available. In under a minute, it's possible to take a photograph with the Glass camera and have it analysed by ColorSnap. The app then displays a number of paint chips in Sherwin-Williams colours that are perfectly matched to the palettes in your photo, and uses the wearable Glass display to provide directions to the nearest Sherwin-Williams store.
While at the moment, it's something of a novelty as Google Glass is not yet available to the majority of the public, it starts to highlight the retail possibilities of the next wave of wearable mobile devices for the retail sector, and how the advantages of digital shopping can be integrated with physical stores. As an added bonus, it also serves as an effective marketing strategy, dramatically increasing the brand profile of a paint company - hardly a sector one would initially connect with high tech gadgets, but one now in the forefront of the mind of every technology enthusiast.
Forwards-thinking companies may one day soon be creating augmented reality apps designed for their brick and mortar stores, bringing an end to the much-discussed practice of 'showrooming' and allowing customers to digitally purchase products that are directly in front of them at the best possible price, using an instant price-matching policy. The possibilities are endless, but next week we'll be examining some more upcoming retail trends for the nearer future.