Decoding The Seasonality Of Retail Sales
The Holiday season towards the end of the year and the beginning of a new year tends to bring big results for retail businesses. Often, however, as a retailer, you might not be sure which holidays are the most profitable for your business. As a result, you won't know which holiday to focus on.
This is an important analysis for any retailer because it will help you aim your marketing or advertising budget around the holidays that provide the most sales opportunities.
In this post, we will compare January sales, around the New Year, to those of Black Friday, which comes hot on the heels of Thanksgiving Day. These are both big holidays that can unlock profitable opportunities for any retail business.
Reviewing Data On New Year Sales
Ecommerce retail sales data
from the St. Louis Fed
for the US economy paints a positive picture of retail trends in the economy.
Over the year of 2018, for example, ecommerce sales increased from $122.5 billion in January 2018 to $130.9 billion by July 2018. Going back 2 years to January 2017, ecommerce sales amounted to $105.4 billion.
The data shows that ecommerce sales, in particular, have been on a strong upwards trend every year for the last 10 years. The only year in which there was a decline was 2009, when ecommerce sales ended lower than they had been in 2008.
Offline Retail Influences Seasonality Effects
While the picture might be rosy for ecommerce retailers, when looking at data for all retailers, including offline shops, the picture is more complex.
First, the positive.
The Fed's data
shows once again a pattern of strong growth over the last 10 years, with retail sales last bottoming in 2009.
However, the statistics show that January has been a low point of sales in almost every year in that time. Notably, there was a November bump, extending sometimes into December. This bump is indicative of the Black Friday to Christmas shopping cycle for retailers. As we noted, the effect is particularly strong when looking at all retailers, and less noticeable for online-only retailers.
Black Friday Sales Overshadow January
Black Friday is an important day for all retailers since it drives huge volumes in sales. For many retailers, it's the single biggest sales day. This is particularly important for retailers in categories such as jewelry, where,
The Balance reports
, Black Friday sales can be as much as 40% of revenue for the entire year.
Black Friday Sales Growth
In 2018, Black Friday was a resounding success, representing huge growth on past years. For example,
Shopify reports
on data showing strong growth in Black Friday sales from 2015 to 2018.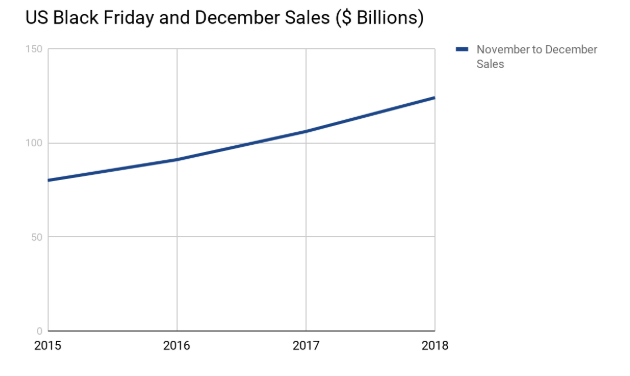 Chart: US Black Friday and December Sales
Declining In Store Traffic
At the same time,
The Balance notes
that, between 2015 and 2018, in store traffic on Black Friday has been decreasing. Consumers increasingly expect to track the best deals online.
As a result, in store visits were down 9% on Black Friday in 2018. In 2017, they were down 4% from their 2016 levels. The preference of shoppers for shopping online, however, is good news for retailers with an ecommerce presence.
Shopping Categories in Which January Sales Are Overshadowed by Black Friday
While, as noted above, sales have shown a strong upwards trend from year to year, whether to focus more on January or Black Friday sales depends on the shop type. There are categories in which Black Friday sales will be paramount.
Missing a Black Friday boom will be a catastrophe for these businesses. Here's how to tell if you should be especially focused on Black Friday.
Black Friday Matters Most For These Categories
BigCommerce has tracked retail sales
during the holiday season to compare performance across industries. They found that industries which were in gift shopping categories were among the best performers during Cyber Week and the Black Friday shopping cycle.
These industries include:
Jewelry
Fashion
Toys
Home and Garden
Automotive
Sports and Outdoors
Health and Beauty
If you manage a retail business in any of these categories, Black Friday and Christmas sales will be particularly important for you. Sales do trend lower after Christmas in these gifting categories, therefore the holiday season before the start of the New Year is a time to focus your energies.
How To Sell More On Black Friday In These Categories
Certain tactics can boost your Black Friday and Cyber Week sales. These tactics will be especially valuable for businesses in verticals such as sports and outdoors or jewelry.
You will need to lay the groundwork ahead of Black Friday so that you can get maximum sales on the day.
A popular tactic in these verticals is to invest in strong email marketing ahead of Thanksgiving. For sellers in the UK and other places outside the US, this can be, for example, up to 4 weeks prior to Thanksgiving. Sellers in the US can work with tighter time-frames, since shipping times are likely to be shorter. You can pair your emails with announcements of discount sales that prime people to buy special deals on Black Friday.
Some bigger stores go as far as hiring additional personnel to help with the higher volume that they know they will experience during Cyber Week.
Finally, you should
invest into Facebook and Instagram marketing
as these social media platforms now drive a good part of holiday sales for gifts. If you market well on social media, consumers will discover your brand from their networks and ultimately help to drive your holiday sales even higher.
Winning the Retail Seasonality Game
As we have seen, for holiday gift shopping, Black Friday and the holiday cycle extending into December are particularly important days. If your retail business is in categories such as fashion, beauty, and jewelry, you should focus most of your efforts on these holidays.
You should also take advantage of the sales trends that are affecting retailers' results during
Black Friday and Cyber Monday
. For example, many shoppers use online platforms to conduct the bulk of their holiday shopping.
Developing your social media presence will help improve your store's performance on Black Friday. To succeed during the holiday season, you will typically need to lay the tracks well in advance. Focusing on Black Friday, however, does pay, as this day alone can account for a huge chunk of retail sales in certain categories.