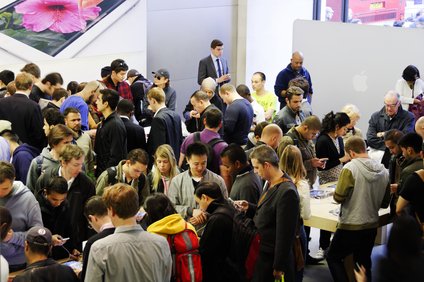 As the world knows by now, Black Friday is one of the largest shopping days of the year globally - despite the fact that the retail phenomenon is more or less limited to the North American continent. Originally devised as a post-Thanksgiving sales day for retailers to clean out inventories and shore up sales numbers before the traditionally huge winter holiday shopping season, the event has spread and spread until the two have merged, and Black Friday is now more of a kickoff for the rest of the shopping season. Finally, the trend has spread across the Atlantic Ocean and reached the shores of the United Kingdom.
Curiously enough, the retailer who seems to have capitalised most successfully on the Black Friday trend is grocery retail giant Asda, boasting a massive increase in sales on all manner of non-food items in all their chains across the country. Customers queued up for hours outside of Asda stores to cash in on heavily discounted items, with competition for purchases becoming so fierce that fights actually broke out and several stores, and one woman was hospitalised with a broken wrist following one of these scuffles. In the United States, sadly, there has been a disturbing trend of customers being injured in stampedes to purchase the best deals, and hopefully the United Kingdom's Black Friday events won't follow that route.
Asda wasn't the only one to cash in on the growing Black Friday trend, as retailer John Lewis also offered heavy discounts both online and offline. Incredible web traffic spikes of 323% and mobile traffic spikes of a truly astonishing 1340% showcase the voracious appetite of UK consumers for the same type of one-day retail prices that Americans have enjoyed for years. Even smaller retailers are jumping onto the trend, with many boutique shops and other non-chain stores offering Black Friday discounts and extended hours for shoppers.

The moral of the story is that consumers will always search out a better deal. Now that the floodgates have opened, UK retailers can no longer ignore the trend, as the competition will immediately be gaining a huge advantage - so huge that it may quickly become insurmountable. Keeping a close eye on competitor pricing trends is the only way to maintain an advantage, as a price-matching sign posted in John Lewis proclaimed: 'If our competitors are having a sale, so are we.'