Retail giant Tesco are out of stock on several popular consumer goods after a price disagreement with global consumer goods supplier Unilever. This situation is said to have ensued after Tesco's rejection of Unilever's 10 percent price increase for their consumer brands stocked by the retailer.
Popular products including Marmite, Dove, Vaseline, Pot Noodle and Ben and Jerry's are amongst nearly 200 brands that have been affected after deliveries were halted by the supplier which could see an increase in Tesco's own label like for like products on offer once current stock levels of Unilever products are depleted.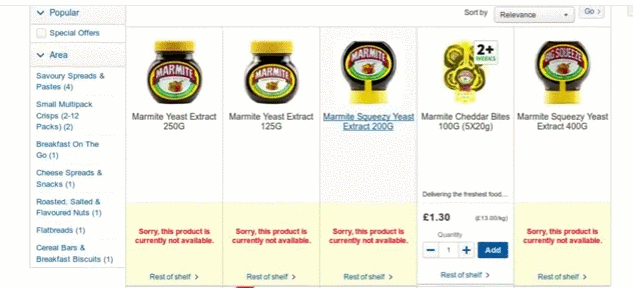 Helmut Okike, Head of Marketing at Competitor Monitor said, "Suppliers are currently going through a tough time based on the falling value of the pound so it's not unreasonable for them to seek avenues to pass the cost on."
Mr Okike added, "The immensely competitive nature of grocery pricing dictates that retailers strive to keep their prices as low as possible to remain more affordable than the competition to stop their customers from going elsewhere but they will have absorb a share of the supplier costs at some point."
As one of the biggest suppliers of branded foods and household goods in the UK, Unilever are being accused of "exploiting customers" based on the fact that several products are manufactured in the UK and not directly affected by the performance of the pound.
Tesco customers took to social media and praised the retailer for pushing back on the requested price increase while others voiced their intent to boycott Unilever products.




Undoubtedly, Unilever will be making similar price increase demands on other retailers but it would be unsurprising to see an increase in retailers who become more vocal about this issue as they fight to stay competitive in a currently turbulent economic climate.