Overview of Shopping Events
As retailers, planning ahead is key to getting the most out of the retail calendar. Which events to plan for will depend partly on the sales vertical your business is in, as well as the size of the business.
Focusing on a few, select shopping events can help direct your goals as a business. Regardless of the events you choose, some basics apply to all of them. You must explore opportunities to forge relationships with customers and create excitement around your brand. Here are the top shopping events to watch for in 2019.
January 1 - New Year's Day
New Year's Day, falling on January 1, is traditionally a big day for retailers. Families across the world buy gifts for one another in celebration of a new year. The promise of the year looms large in consumers' minds. Sports and exercise equipment sellers are just one category that is primed to do well in the New Year. According to
The Washington Post
, Google searches for gyms spike in January. Fitness retail sales also rise, along with other store categories that have to do with consumers setting New Year resolutions.
February 14 - Valentine's Day
February is the month for romance, with February 14 celebrating romantic love. This tradition began in England in Medieval Times and has flourished in many parts of the world since then. Retail stores that sell gift items for romantic couples can expect to see strong gift sales across a variety of products.
According to a Forbes report
, the biggest sales tend to occur in jewelry, followed by evenings out, flowers, and clothing. Shopping for significant others tends to be the biggest motivation around
Valentine's Day sales
.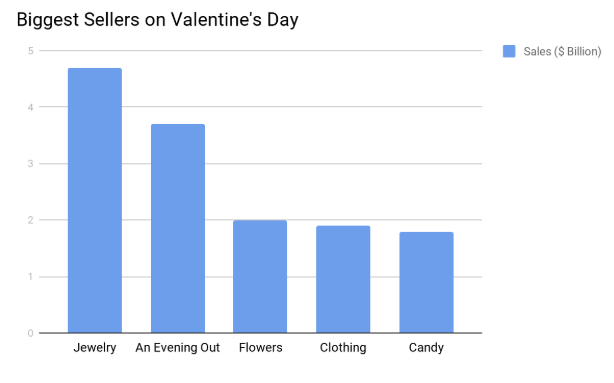 Chart: Biggest Sellers on Valentine's Day
March 17, St. Patrick's Day
For the Irish, St. Patrick's Day is a day of festivities in memory of St. Patrick, the patron saint of Ireland. What began as an Irish holiday has spread across the world, and impacts retailers in the US, Ireland, Europe, and other destinations where St. Patrick's Day is recognized. Green is the color to wear on St. Patrick's Day, and apparel retailers see some of the biggest rises in sales.
Data from We Are Top 10
on St. Patrick's Day indicates that food and beverage tend to be the biggest shopping items as participants stock up to celebrate with friends.
April - Easter
Many churches around the world celebrate Easter in April, and this is a good time for retailers as well. This is because, in addition to being a religious festival, Easter is also among the biggest shopping days of the year.
Data from the National Retail Federation
indicates that, in recent years, Easter-related sales amounted to around $18 billion in the US. If you are haven't considered Easter promotions in the past, it may be worth it to make a foray into targeting the holiday. Sellers of candy and Easter gift items are among those that perform well during Easter.
July 4 - US Independence Day
In the US, the 4th of July is one of the most important national holidays. This is the day when Americans celebrate the Declaration of Independence, going back to US independence on July 4th, 1776.
Based on data from ABC
, Americans spend over $1 billion in beer alone on the 4th of July. Fireworks retail sales hover around another billion dollars, and food for family cookouts tends to be another big seller.
September - Labor Day
Workers are an important part of the economy. Many nations have set up Workers' Days, and in the US, this happens to fall on the first Monday in September. Labor Day also happens to be a boon for retailers. Car dealers traditionally have their biggest sales push around Labor Day as they seek to offload old models to make way for the new. After Labor Day,
according to Pymnts
, the focus will generally be on getting customers excited about the new models from car manufacturers. Besides car sales, food and beverage retailers also get in on the game to cater to workers celebrating Labor Day.
October 31 - Halloween
The last day of October marks the celebration of Halloween. In countries such as the UK and the US, participants dress up in scary costumes and go trick or treating. Since candy and costumes are a big part of the fun, retailers stocking these in-demand items can expect to have a good sales day on Halloween.
The Balance reports
that Halloween sales amounted to over $9 billion in 2018. Candy and Halloween costumes were the biggest purchases.
November - Thanksgiving Day
Thanksgiving Day in the US falls on the last Thursday of November each year. Thanksgiving Day originated as a harvest festival and has since spread to consumers in other parts of the world. This is a good time for retailers not only in the US, but also those in other countries. Gifts, in the form of clothing, electronics, and other consumer goods, perform well in Thanksgiving sales. There has been an increase in
online sales
around Thanksgiving in recent years, making the case for why retailers need to boost their ecommerce operations.
According to Practical ECommerce
, Thanksgiving online sales hit $3.7 billion in 2018.
November - Black Friday and Cyber Monday
The day after Thanksgiving, Black Friday, kicks off a shopping frenzy that lasts an entire week. Black Friday has traditionally been a day when local retailers offered special sales to attract shoppers. Cyber Monday is the next immediate Monday, when consumers take to online platforms to find special deals on gifts and other items they want for themselves.
According to Practical Ecommerce
, Cyber Monday in 2018 was the biggest online sales day of the year with $7.9 billion sales. Black Friday, with $6.2 billion, was just behind. These two days, and the week that follows Thanksgiving, known as Cyber Week, present a big opportunity for retailers of all stripes.
December 25 - Christmas Day
Christmas Day on December 25 happens to be one of the biggest shopping days in most Western Countries. Not only church goers but also non-religious people participate in Christmas celebrations with family members. Giving gifts is a big Christmas tradition, as likely to be practiced by world leaders as by ordinary members of society. For 2018,
CNBC reported that US retail sales
would be over $1 trillion.
Planning Your Sales Calendar
Holidays and major events throughout the year provide opportunities for retailers to maximize their sales. It pays to study the calendar and spot your best chances to make an extra sale to holiday participants. Each holiday has something unique to it that draws a different kind of shopper. Regardless of your retail category, planning your sales calendar will help you achieve a blockbuster sales year.