The Mad Box games console has attracted much attention and "buzz" since it was announced to be under development, for a 2022 release. A games console to rival those manufactured by
PlayStation
,
Xbox
and
Nintendo
, the Mad Box is being manufactured by
Slightly Mad Studios
.
With gamers also eagerly awaiting the release of next generation devices including the PS5 and the Xbox Two – both expected to be released in late 2020, there is a lot of excited discussion about what to expect and which manufacturer will develop the most user-friendly, and popular device.
This article will review the games console that is under development, based on what is currently known about its features and will consider what makes it different and whether it is likely to be successful.
Mad Box Versus Xbox And PlayStation
Mad Box
Screenshots of the design of the
new Mad Box
were released to lukewarm reviews in early 2019.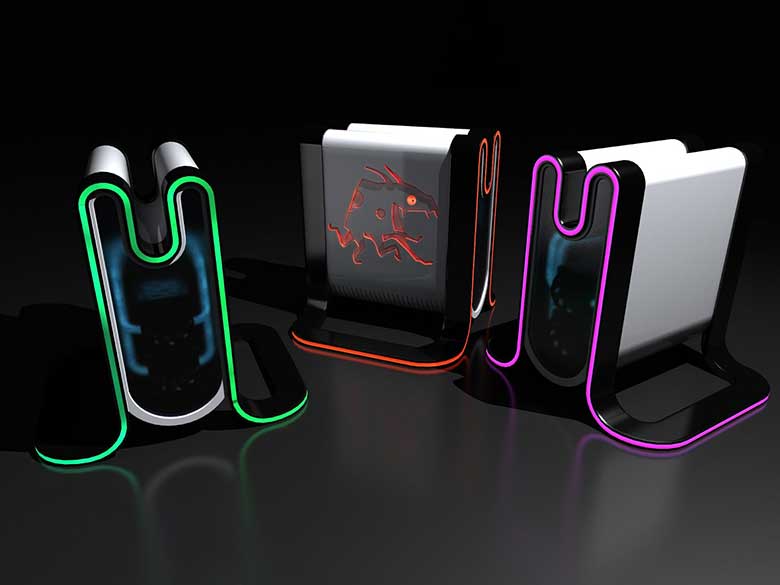 Images of a tower like structure, with "wing-like" feet were released on social media and then changed in response to the reviews of the aesthetics of the proposed device. Images of a completely new design were subsequently
released on Twitter
and these suggest the Mad Box will instead be more square (the tower like structure having been completely scrapped), with a front – facing display in full colour.
Accompanying screenshots of the controller suggest it will have an RBG-illuminated design with a full touchscreen display at the centre. Some commentators have suggested it is very similar to the Xbox One controller. The controller will have a set of thumbsticks, a D-Pad, four face buttons, with two analogue triggers and a four digital paddles on the rear end.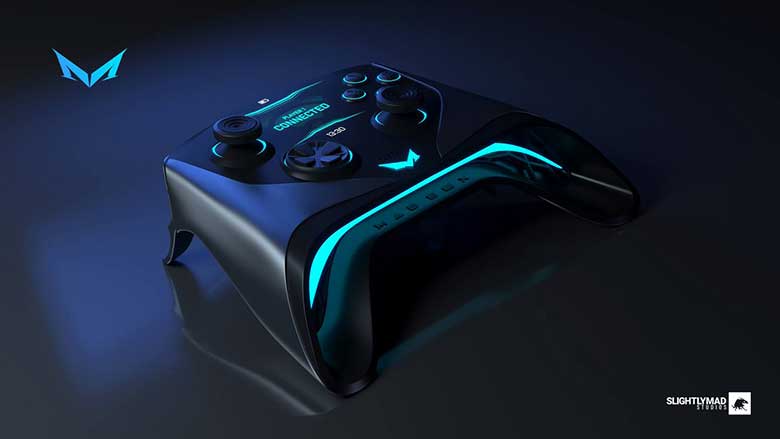 The Mad Box is still in the early phases of development, but its creators have promised a 4K-resolution, VR ready device, which will be priced similarly to the PlayStation 4 or the Xbox One devices. It has been reported that its creator will be providing a free engine for developers, and that developers will be allowed to release their games on other devices as well.
Other features that have been discussed include a full engine of pre-loaded games, with capability to display VR games at 120 frames per second. Internally, the device will have the capability to process 180 FPS. It is expected that the device will be compatible with most VR headsets, and the device is also rumoured to include a handle button (allowing for a handle to be deployed with one press of the button) to ensure it can be carried around conveniently.
The design is supposed to be very lightweight, however, exact weight specifications have yet to be released and fully confirmed. Slightly Mad Studios CEO Ian Bell has also said that it will be the "
most powerful console ever built
".
The new Mad Box device is anticipated to have much greater wireless functionality than any of its competitors, or their current generation devices, with a proposed 16 GB of RAM. The Mad Box CTO is rumoured to have confirmed that the new Mad Box will be able to "talk to other Mad Boxes without cables". The precise functionality, and specifications of the feature remain unclear though.
Interestingly, Mad Box creators have continued to actively solicitor feedback on the design concepts that have been released – even the ones that have followed after negative feedback. This strongly suggests that future tweaks, or even a complete overhaul of their device may be in the pipeline.
Slightly Mad Studios are reportedly still in the early stages of finalising funding negotiations and these will probably influence the final spec of the device, its games engine and how it will be marketed. Further, the device creators have not yet finalised any deals with interested investors, and it may be that these are not as favourable to the creators as have been anticipated.
The proposed marketing of the Mad Box has also been subject to change and controversy. The original tagline of "you'd be mad not to buy a madbox" has reportedly been scraped and there is now a competition to replace it with something else. The prize for the winning entry is reported to be
10k USD and free games for life
. So, again this aspect of the planned device is something that will be agreed, and finalised in due course.
In direct contrast to the proposed Mad Box, there appear to be many more concrete details of the proposed specifications of the next generation Xbox and PlayStation consoles.
Xbox
The
next generation Xbox
which has been dubbed "Durango", promises a x64 Architecture and no less than 8 CPU cores, each running at 1.6 GHz. In addition each CPU has its own internal functionality, which is a 32 KB L1 instruction cache and a 32 KB L1 data cache. Each module of 4 CPU cores will have a 2 MB L2 cache, running on a total of 4 MB of L2 cache. Each of these cores has a fully independent hardware functionality, which again have fully independent execution resources.
The Graphics core in the proposed next generation Xbox will have a D3D11.1 class 800-Mhz graphics processor, complemented by 12 shader cores, each providing a total of over 750 threads. It is expected that when running optimally, the graphics unit will be capable of issuing 1.2 trillion floating-point operations per second.
The memory of the next generation Xbox will reportedly be 8GB of DDR3 Ram with a 68GB/s bandwidth) complemented by 32 MB of fast embedded SRAM or ESRAM which has a functionality of 102 GB/s. a combined bandwidth of 170 GB/sec. A 50 GB 6x Blu-ray drive will accompany the console.
Furthermore, lots of reports abound about the hardware accelerators of the next generation Xbox. These will reportedly comprise of move engines with image, video and audio codecs. Kinect multichannel echo cancellation (MEC) hardware will improve user overall user experience. Even security has been addressed with cryptography engines for encryption and decryption expected to be included on the console.
All of this information comes however, with a large element of doubt, because these are unsubstantiated reports. Some reported "leaks" have been referenced by reviewers, but as yet there is nothing concrete from the manufacturer. How much cooperation the "leakers" have received from Microsoft is unclear, but there is a lot of detail for these rumours to be completely fictitious. Moreover, some reviewers and "leakers" have been able to provide proof of their claims, and, as it happens these "leakers" have previously provided credible information about forthcoming products. It may be that this is just a much smarter strategy coming from Microsoft compared to the creators of Mad Box. Whereas Mad Box creators had to backtrack on their design specs after releasing them to mediocre feedback and reviews on social media, if Microsoft is cooperating with this information "release" this still gives them the advantage of deniability, if some aspects of the innovation change at a later stage. At the same time, they get the advantage of creating "buzz" and discussion around their proposed new products. If this is true, it allows Microsoft "wriggle room" to make changes without having to admit (as Mad Box creators had to) that their design specs fell short and needed to be tweaked.
PlayStation
As for the next generation PlayStation, there is not a lot of information available, either in the form of rumours or announcements from the manufacturer that allow us to build a picture of what the new games console will be like.
One exception has been the confirmation that Sony's next generation console will have "
back compatibility
". This could hardly be kept secret though as it requires approval of a new Sony patent covering back compatibility, which has been applied for. This feature of the next generation PlayStation means that any next generation console is highly likely to be designed to support games and titles that have been purchased for older devices. The design of the new console is in the hands of Mark Cerny, the lead architect who designed previous PlayStations, and it seems the early design of the next generation PlayStation is incorporating lessons from previously designed consoles, which (unlike the Xbox One) didn't have backwards functionality. This lack of backwards functionality proved to be quite controversial as games quickly became obsolete, so it is not surprising that Sony has made it a priority to address it.
The PS5 has a distinct advantage over the Mad Box design since it already has a bank of games, which have received a plethora of feedback and reviews from users. All that is required is for Sony to focus on the redeveloping and improving their most successful games for release on the new console. The Mad Box approach is much riskier, since their bank of games needs to be created as a new platform. That said, Slightly Mad Studios have two decades of simulation experience and they are the creators of the hugely popular project
CARS franchise
.
The Issue Of Price
Surprisingly, none of the manufacturers of any of the next generation games consoles have focused on price as a means of selling or promoting their devices. All we know about the Mad Box price strategy is that it will be priced "competitively" compared to other next gen devices. Sony appears to be addressing the issue of price, indirectly with their focus on the development of back compatibility.
It may be that the issue of price will become more controversial after the devices are unveiled, and they reach a stage where they cannot be tweaked and changed in response to user feedback. At that stage, the price may need to be adjusted to reflect positive or negative feedback from users, but for now the manufacturers are all focused on "outdoing" each other when it comes to the design features and functionality of each of the devices.
Mad Box – Is It Just A Bit Too Much Hype?
Whereas some commentators have been critical of the numerous changes to the proposed Mad Box device, its functionality and how its proposed aesthetics, others have welcomed a seemingly progressive approach that takes early stage feedback into account and makes changes based on these. The approach is certainly unconventional, but whether this approach betrays a flakiness or disorganisation that may infect future aspects of or descriptions of device functionality, remains to be seen.
Moreover, since details of the next generation devices that will be developed by Mad Box competitors have yet to be finalised, it might be wise to take the "hype" surrounding the Mad Box with a pinch of salt. Indeed, one reviewer's devastating assessment of the Mad Box was "
this is one hype train I'd avoid
". It is probably fair comment to say that since no detail has been released on any of the games that the Mad Box will be either preloaded with, or compatible with, the quality of the experience of playing with the device remains untested by customers. This is the true litmus test of any games console. It may be that competitors are able to develop better functionality into their next generation devices and this just has not been announced yet. 2022 is a long way away, and as such speculation about the device functionality, market position, price and user-friendliness is at this stage, premature.
Developers working on the new Mad Box are showing a great degree of ambition, excitement and passion, however what can actually be delivered is anyone's guess. It may be that the information, claims and promises that have already been made and released about the new proposed device turn out to be problematic for sudden or unexpected reasons – something that is not uncommon with new technological innovations. Moreover, defining exact specifications of the Mad Box so early in its development phase is something that will agitate competitors and they may be looking to use the next 2 to 3 years to out-perform those propositions. Indeed, this information and the design release has thrown the gauntlet down. What remains is a race to the final product conceptions for each of these so-called "next generation" devices. It may be that the designers who have not made any claims, or promises are the ones who will actually be able to deliver better spec and better functionality.
While wide-ranging compatibility with "most VR" devices has been promised by Mad Box creators, it is not clear what the compatibility of the device will actually be. If just one aspect of what is yet to be confirmed about this is controversial in any way, this will likely affect the performance of the proposed Mad Box alongside its main competitors.
Re-design of the Mad Box is still possible at this stage, to fix issues and design flaws that were not expected. However, once the final product has been released and the first few thousand devices have been sold, there is no predicting how reviewers and users will evaluate the product. This reception, which cannot be fixed, changed or revised is what will ultimately determine the success or failure of the Mad Box.
Mad Box – Will It Be A Success?
This article has looked at the Mad Box games console, its much-anticipated design specifications, what makes it different and has asked the question – "will it be successful?".
Initial claims about the specifications of the proposed device sound impressive however there are elements of doubt surrounding what can actually be delivered with the Mad Box games console. Initially underwhelming design screenshots released on social media have betrayed some problems with early stage device innovation and if these problems continue to affect the development process, the release of a games console that lives up to the expectations of its creator may not be plain sailing! Hot on the Mad Box creator's heels are aggressive and wealthy competitors, none of whom want to finish last in the race to design the most powerful and impressive next generation games console. These competitors, including Sony and Microsoft have largely remained "tight-lipped" (at least officially) about their new innovations and how these improve prior user experiences, or compare to other devices.
All things considered, it is probably too early to gauge whether the Mad Box will be the huge success that everyone seems to be anticipating. It was probably a bad idea for Slightly Mad Studios to release so much information about their proposed next gen games console, so early, because it has forced them into embarrassing u-turns, and even worse than this – it has made them look amateur, excitable and flaky – in many cases provoking the wrath of disappointed reviewers and trusted commentators. On the other hand, the quick response to comments and feedback has shown Mad Box to be a brand in touch with what its users want and flexible enough to make significant changes to prototypes to facilitate early user feedback.
Microsoft has an altogether smarter strategy for gauging how their next gen device will be received, since they appear to be "leaking" or at least cooperating with "reviewers" of their anticipated product specifications, therefore maintaining the advantage of deniability, should things go wrong, or need to be changed.
However, with the release of the next gen devices so far away, the "crown" for the best games console is very much in play for any of the manufacturers.