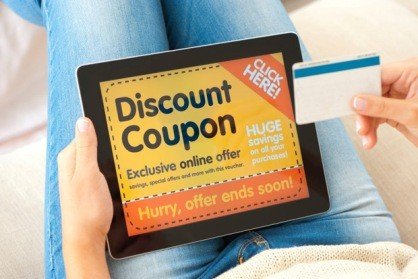 As everyone in the world is aware, the last few years have been rife with economic turmoil in almost every nation. Unsurprisingly, this lead directly to dramatically increased price and value consciousness in consumers for almost every retail sector imaginable. Discounts and deals have become almost the norm instead of specials, and the trend shows no sign of stopping now. When combined with the general expansion of e-commerce around the world, it should be no surprise that the coupon's digital twin is rapidly growing in popularity as well.
In fact, a recent projection from e-commerce retail analysis firm eMarketer suggests that more than half of the internet users in the United States will redeem digital coupons at some point during the 2013 fiscal year. Data acquired during the first two sales quarters of 2013 indicated that their initial annual project was too modest, and they revised their adoption figures upwards to reflect the growing trend.
The ever-expanding mobile space plays a part in this growth, with over 42 million adult smartphone users expected to redeem digital coupons during their regular purchasing habits, a whopping increase of over 40%, following a growth of over 60% in the previous year. Tablet users in the United States are even more likely to redeem digital coupons, with over 45 million consumers projected to take advantage of these savings, and rapid growth is projected for the next two years, when the tablet-owning population will have roughly doubled in size.
Clearly, this is a market ripe with opportunity for savvy businesses. With the 2013 holiday sales season fast approaching with the one-two punch of Black Friday and Cyber Monday, there's no better time to roll out a digital coupon marketing solution. A rapid rollout in time for these blockbuster sales days is the perfect chance to test-drive your solution to prepare for the even more lucrative holiday and end of year sales that always close out the holiday season.

With consumers so keenly attenuated to differences in price, a well-planned digital coupon solution give you a chance to get the drop on your competitors this holiday season. If you combine your planning phase with a price monitoring solution, you can tailor your coupon codes to ensure that consumers choose to buy from you instead of the competition!