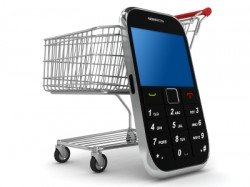 Mobile commerce is, without a doubt, the next big thing. With most in the Western world sporting smartphones, and the rise in smartphone adoption in developing markets that leapfrogged earlier cellphone technologies, much of the world will soon be using web-enabled mobile devices. In fact, web traffic from mobile devices has more than doubled in the second quarter of 2012 when compared to 2011. That's quite a lot of market share. Let's take a quick look at some of the other up and coming mobile device trends that will take off shortly.
Near field communication. NFC technology, which you may already have as part of a NFC-enabled credit card such as 'Paypass' in North America, will soon become ubiquitous tech in smartphones. For purchases under a certain amount of money, you simply tap your enabled device against the reader, approve the amount, and you're done – no fuss, no muss.
QR codes. You've no doubt seen these around on advertising and marketing materials, though you may not have realize exactly what they are yet. A more advanced form of barcoding, QR codes let consumers simply snap a picture to gain access to a specific website or other location, essentially bringing the online and offline worlds together to create an enriched experience.
Location-aware advertisements. While early adopters have flocked to mobile shopping, many consumers still prefer to make their purchases physically in-store. In order to leverage this segment of the population, marketers have begun to merge the location awareness provided by GPS-enabled mobile phones with advertising campaigns, allowing them to drive traffic to the closest brick-and-mortar stores instead of to online offerings.
Carrier billing. This is one of the oldest mobile payment trends, but one that still maintains a great deal of market share. Carrier billing allows users to avoid the perceived hassle of credit cards and digital wallets by simply charging their purchases to their mobile device bills.
Tablet commerce. The tablet market has absolutely exploded over the last year, and the trend doesn't look to be slowing down any time soon as the various offerings from Apple, Samsung, and Amazon (among others) battle for market dominance. The technology behind them all, however, offers possibilities for mobile commerce (sometimes known as m-commerce, or in this case, t-commerce) that aren't available through either traditional PCs or even the most advanced smartphones, such as fully interactive catalogues and other novel shopping channels.
One of the most exciting things about the mobile sector is the possibility for innovation, and that is one trend that will never cease to amaze. Be sure to keep a close eye on the mobile sector over the months and years to come, as it will completely reshape the retail industry – as well as many other aspects of life.