Trending products like shapewear, pet beds and smartwatches can provide a welcome boost to sales on e-commerce sites, and they can be used to stimulate sales at both bricks and mortar stores and on websites.
So, what products are trending in 2019, and why?
Shapewear
Shapewear has evolved from little worn or talked about pieces of underclothing reserved to be worn on special occasions to wardrobe staples that can be worn every day. Shapewear has become more flexible, more comfortable and lighter, resulting in a surge in sales and popularity of these products. Equally, shapewear has become more ethnically diverse and is made for a much wider range of skin tones, colours and body types.
Shapewear has not only evolved in terms of how comfortable and easy to wear it is, but different types of shapewear have also evolved. Bodysuits, waist clinchers, vest tops, shaping lingerie, high-waisted shapers and bum and thigh control pants are just some examples of the types of product now on the shapewear market. Different types of shapewear target different areas of the body for example, the belly or the thighs. This emphasis on targeting key areas is, for example, reflected in Kim Kardashian's new line in shapewear which is dubbed "solutionwear".
All of these developments add up to massive sales potential, with some studies estimating that by 2022 shapewear sales will exceed $5.6 bn. This makes shapewear a fast-growing product, which still has plenty of untapped potential.
Unmanned aerial vehicles (UAV)
Drones are being used by hobbyists for leisure and are also widely used to support search and rescue operations, for example to help find missing persons due to their ability to cover large surface areas even in inhospitable weather conditions. Drones can also be equipped with advanced sensors and sophisticated cameras and they can be adapted to seek out heat sources which can assist in searching for missing persons.
The main drivers for the growth of UAVs is their increased use in commercial and military projects throughout the world. Such is the popularity of UAVs at the moment in the UK, the UK government has had to introduce an array of legislation and regulation to combat their unauthorised use. This has necessitated a system of oversight and monitoring where drones are even used as a means of locating unauthorised drones. Drones known as "detect and destroy drones" are to be rolled out in the UK over the next five years. UAVs are also being used by the military to gather intelligence from inaccessible areas and countries. UAVs are also experiencing high demand due to their popularity among children and the integration of UAVs with AI is another factor that is driving increased demand.
The market for unmanned aerial vehicles, for example drone cameras and drones is expected to grow considerably over the next five years. One estimate puts the current value of the UAV market at $19.3bn in 2019 and projects that this will increase to $45.8bn by 2025.
Flexible garden hoses
The re-imagining of the traditional garden hose to make the equipment more flexible and more user-friendly has driven a surge in demand for these products. Hoses have been re-designed so they can be uncoiled and recoiled more easily and accessories like spray guns have also been added to make the hose easier to use, with less mess and leakage.
New products within this product category have also been selling particularly well, for example power hoses designed to clean cars and outdoor spaces.
Smartwatches
Smartwatch sales are booming in 2019, with smartwatch sales in the USA alone increasing by 24% in 2019 compared to the same period in 2018. 2018 saw a 61% increase in smartwatch unit sales (shown in the chart) compared to the previous year and the US smartwatch market is now estimated to be worth nearly $5 bn.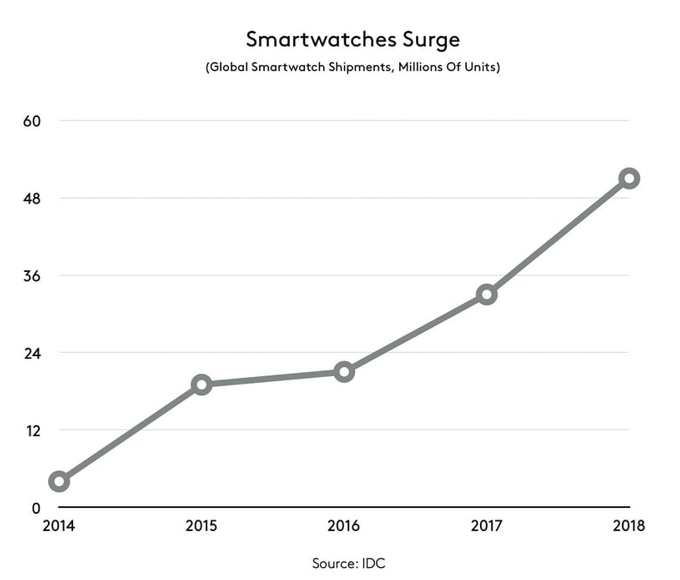 Apple, Samsung and Fitbit have made it to the top of watch best seller lists and now compete alongside traditional watchmaking powerhouses like Rolex and Patek Philippe. Some estimates have suggested that smartwatches now account for almost 50% of total watch sales.
This surge in smartwatch popularity has been bolstered by developments in nanotechnology and other technological advances which facilitate a wider range of tasks to be completed using hardware that takes up much less space. Now smartwatches can be used to control systems like heat and light remotely as well as to perform a range of tasks, previously seen as incompatible with watches, like checking phone notifications, having a phone conversation, playing music and recording video. Smartwatch popularity has also benefitted from emerging fitness trends like tracking steps and calories to augment fitness and achieve fitness goals. As a result, what used to be a relatively niche product has now become much more mainstream.
All of this makes the smartwatch something that continues to sell extremely well and shows no sign of slowing down in 2019.
Posture control gadgets
While it doesn't have the aesthetic appeal of the smartwatch, the posture corrector should not be underestimated as a trending powerhouse in a world where medical devices are much more widely available and cheaper for most people to buy.
Google trends records a huge increase in people searching for keywords related to posture correcting gadgets and savvy retailers are making considerable profit from catering to the new demand for these types of products.
Some analysts have suggested that increased popularity of posture correcting devices is increasing on the back of increased sales of laptops which can cause back trouble from people leaning over laptops and other devices like ipads. Indeed, a study by Columbia University has connected posture issues with the increased number of people looking down at laptops on their desks as opposed to looking directly in front at more traditional style desktop computers. Other studies have suggested that looking down at mobile phones has created a distinct set of back and posture problems for new generations for whom mobile phone and laptop use is much more frequent as part of work and leisure.
Safety shoes
Another market that is surging at the moment creating trending products is the market for safety shoes which is expected to be valued at $3.2bn by 2024. Safety shoes are used by industrial workers to reduce the risk of chemical spillage, foot injuries including breaks and crushing, snakebite, burns, stings and electric risks. The shoes are standard issue across several industries including construction, manufacturing, oil & gas, mining, pharmaceutical and transport and demand is surging in particular within emerging economies like India and China.
A key driver of the demand for safety shoes is the development of innovative products like electric cars. Use of electric cars, itself is creating an increased demand for safety shoes that will withstand electric shock.
There is also an increased demand for shoes that protect the ankle as well as the foot. Indeed, this type of shoe is one of the most frequently purchased shoes in this market.
Specialist shoes also reduce wear and tear on joints and strain injuries, so employers are also investing in them to reduce incidents of work-related illness and disability. Leather footwear is particularly in demand at the moment, due to its non-conductive nature, versatility and the fact that the material is relatively inexpensive. Experts expect that the demand for leather shoes will surge in the Asia-Pacific region, mainly due to the introduction of work-related safety regulations in the region.
Pet beds
The humble pet bed is seeing a surge in growth at the moment, based on search volume analysis by Google Trends. Keywords such as "dog bed", which gets 250,000 monthly searches on Google alone and "cat bed" which reportedly gets 60k searches every month evidence the surge in demand within this area.
New innovations in pet bedding design, for example beds made from memory foam and beds developed to reduce pet stress and anxiety are particularly popular. Lidl has also designed a pet bed that reflects a pet's body heat back towards the animal to keep pets warmer and more comfortable.
Plus size clothing
The growing trend for plus size clothing has been fuelled by a number of factors including rising obesity levels, body positivity, new innovations and clothing retailers increasingly recognising plus-size customers as a previously untapped market. There has also been a surge in representation of the plus-size customer both within the mainstream media and within the fashion industry as a whole. Plus size models and influencers are helping to make plus-size image more "normal" and more widely accepted in society.
As a result, plus size clothing sales are trending in 2019. A report by PWC values the clothing, footwear and accessories market in the UK as £52bn and this figure is projected to grow at, at least, 2.9 % every year. The plus-size market is, according to several measures, growing at a much faster rate, compared to the rate of growth of generic clothing, footwear and accessories and there is a wide consensus that this is because plus size is a relatively "untapped" market.
Makeup and skincare products
In the same way that the fashion industry has started to cater for a range of needs it previously didn't even recognise, the makeup and skincare industries are also expanding product ranges to cater for more people. Tom Ford, for example has recently launched a range of 'his and her' lipsticks to reflect the growing population of transgender, or "gender fluid" people who are interested in buying products traditionally labelled as just "for women". Equally, there has been an upsurge in products designed to cater for a spectrum of skin tones and ethnicities.
As scientific advances in skincare evolve, so too does the market for products which promise medicinal benefits for skin. Market research company Kantar found that the market for skincare products in Asia grew by 8% in 2017, compared to a 4% growth for similar fast moving consumer goods. The reasons for the upsurge in beauty product sales include skincare becoming "more mainstream". In years gone by, specialist skincare products were not as widely available as they are now, and these products tended to be reserved for people with "problem" skin or were only available on prescription from a doctor.
There has also been a surge in sales of skincare products for men and several "men-only" skincare ranges have reached the market. Research has found that men are increasingly willing to add more "steps" to their skincare regimes and focus more on taking care of their skin. Increased sales across a range of product categories reflect the growing numbers of new products that men are willing to try in an effort to improve their skincare regimes.
Ethical products
With more access than ever before to in-depth information about manufacturing processes and their impact on the environment, more and more people are buying brands with an "ethical" spin for example Fair Trade products which guarantee certain standards for the workers producing them or plastic-free products which are guaranteed to cause less harm to the environment compared to their single use plastic counterparts. Decades ago, people didn't know, and didn't have the means to investigate how products were created. In recent years, however, people can use the internet and social media to find out what impact their use of certain products can have on a variety of ethical causes including animal welfare, the environment and working conditions of workers in supply chains. Research has shown that some of the top ethical issues in 2018 included palm oil, plastics and sustainability. One survey suggested that, in 2017, 49% of people under 24 avoided a product or service due to its impact on the environment.
This has led to a distinct change in how people choose to spend their cash with many experts suggesting that more shoppers than ever before are spending their money in accordance with their ethics, values and beliefs. Research has measured the average amount of cash spent on ethical goods in 2017 as approximately £1238 per household, and such is the popularity of so-called "ethical goods", it has been estimated that in 2017 £83bn was spent on them.
Changing lifestyles are further influencing how customers are spending their cash. The vegan and vegetarian lifestyle is being followed by more and more people, with consequential impacts on how these people are spending their money. Veganism is reported to have grown by 153% between 2016-2018, whereas vegetarianism has grown by a reported 52% in the same timescale.
This situation has in turn impacted the way that brands are creating, manufacturing and selling products and services. Damaging media backlashes about certain products and services known to have a negative impact on the environment or within particular causes like sustainability or animal welfare has been known to severely impact profit margins for businesses, with the result that products are now being created with issues important to the consumer in mind.
A good example is Apple, which has come under fire from environmental cause groups and NGOs, mainly as a result of the impact its manufacturing processes have had on the environment. As of 2018, Apple has published an Environmental Responsibility Report which reported that Apple now has 100% renewable energy use across all of its company operations in more than 40 countries globally. Additionally, as a direct response to the rise in ethically motivated customers, the brand has constructed hundreds of wind and solar farms in order to reach its goal of switching to renewable energy sources for its energy requirements.
Carbon offsetting packages
Also growing rapidly in 2019 are packages designed to offset a person's or a business' carbon footprint. Websites including offsetmylife.com and offset.earth allow customers to use tools to calculate their carbon footprint and then purchase credits which fund ecological projects designed to restore and mitigate environmental damage caused by carbon emissions. Offset Earth, for example funds various carbon emission reduction projects like tree planting initiatives, wind farms and biomass projects designed to replace existing forms of energy with "cleaner" energy.
Trending products in 2019
As society has grown more accepting of different types of people, different types of products have emerged to meet their needs. New makeup product ranges for example have developed to meet the needs of transgender people and fashion outlets are increasingly willing to design clothing in "plus" sizes to meet the needs of obese people.
New products ranges have also grown up around environmental causes, for example the trend in offsetting carbon footprints. Furthermore, many existing products are being adapted to reduce damage to the environment, which in turn becomes a unique selling point for the product concerned. There are lots of examples within the makeup and skincare industries, including products that are not tested on animals and products with less or less environmentally harmful packaging.
Technological advances have also fuelled upsurges in sales of certain types of products, with drones and smart watches being good examples. Advances in technology has also led to the creation of new ranges of makeup and skincare products which are designed to combat aging and specific skin problems like fine lines and age spots.