It can be hard to imagine a time before Google. How did we find out otherwise unknown information before the global search engine came into fruition and organised the world's information, making it universally accessible?
Whatever the time of year or occasion, millions flock to the site, but with summer being so unpredictable in the UK, at Competitor Monitor it got us thinking about the mindset of Brits and what they are asking and thinking about throughout the warmer months.
Thanks to Google releasing insights into their search data, we have found some fascinating answers.
Fly Away, Let's Fly, Fly Away
It may come as no surprise that as we reach summer, people start to think about where to go on holiday and what to take. With swimming being one of the key activities if going abroad to a hot country, many want to know how many calories it burns, while parents are keen to know when their baby is old enough to go in the water.
Looking Good On The Beach
Just as everything in the fashion world, trends never stand still and beachwear is no different. Interestingly, micro bikinis have entered straight at the search top spot, followed by the tankini (+1,500% YOY); high-neck bikini top (+1,100% YOY), colour block bikini (+760% YOY) and plus-size bikinis (+640% YOY).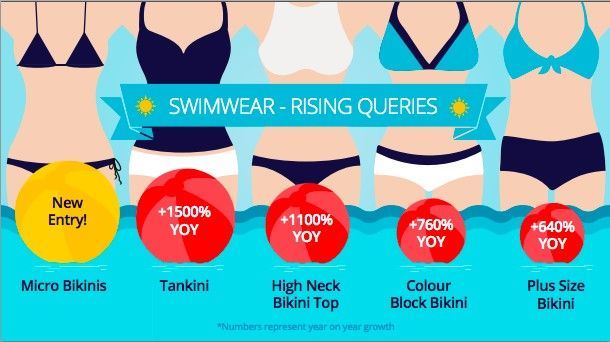 Sunglasses have also seen a shift in styles year over year, with the searches for Polarised sunglasses , up by 45%. Aviators are proving to be a timeless choice with searches, up by 26%. It seems as well that shoppers are making the sensible choice as prescription sunglasses have seen an increase of 17% this year.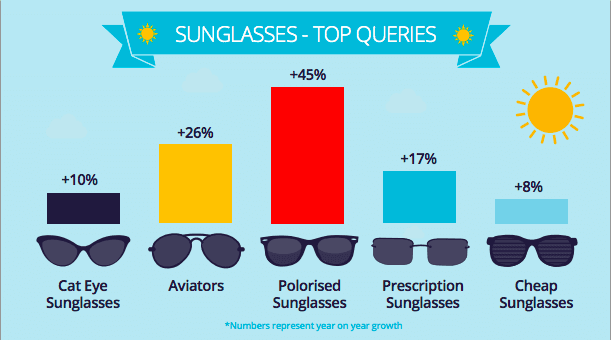 The pressure to have a golden glow when the weather calls for you to show more skin is on the minds of many in the summer months. With increasing caution around the risks of skin cancer, it seems that faking it is the winning route Fake tanning saw a 32% increase of searches (including 'best fake tan'), while searches for spray tanning and 'fake bakes' were up by 8% and 3% respectively.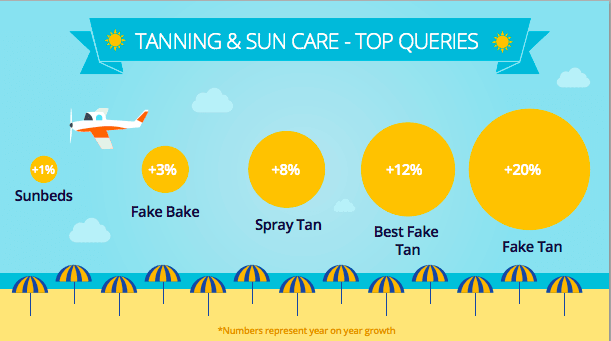 Trends Over Time
As Brits we're known for our surge of enthusiasm the moment the sun comes out as it means BBQ time and swimming! Have a look below from Google's data, showing how trends for both have changed over time, in correlation with the hottest temperatures. For instance, searches for 'BBQ' peaked on 17th July, the hottest day in 2014.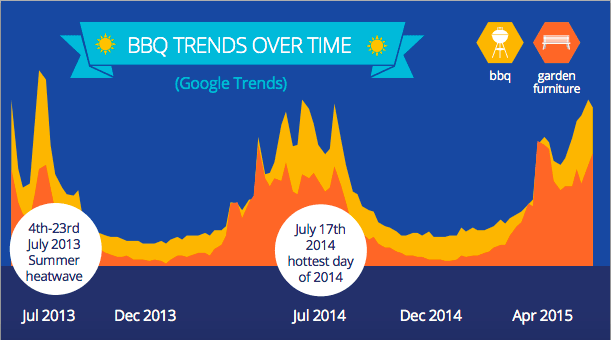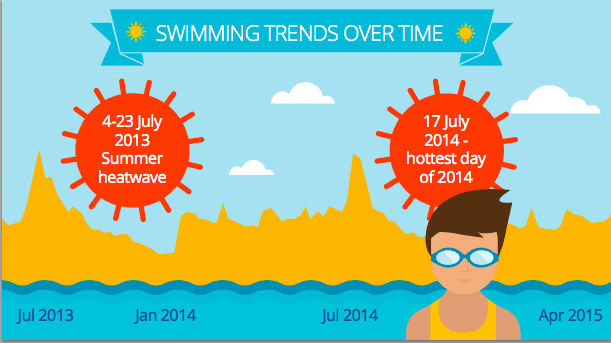 A Lesson for Retailers
So, what can all of these insights tell us? Statistics highlighting trends reflect constantly changing behaviours of the ever-evolving consumer. For brands, marketers and retailers, being reactive to such trends is absolutely key in terms of maximising opportunities or ensuring your prices are competitive in the market..
That's where Competitor Monitor comes in. We monitor thousands of sites across the globe and over 20 million unique products across various industries, from lifestyle to FMCG.
Get in touch with us today
to see how we can help you to improve price competitiveness and profits.
[Photos sourced from The Drum.]