The sixth series of Great British Bake Off (GBBO) has once again proved to be a recipe for success, with the first episode of the series pulling in 9.3million viewers, that's 43% of all TV watchers.
Up by almost 2 million viewers compared to last year, these figures highlight just how popular the show is in the UK, fuelling the growing desire for all things food and baking.
Satisfying our hunger
At Competitor Monitor, we wondered what impact this cultural phenomenon is having on the demand and cost of culinary items.
Annual foodie dates in the calendar, such as Pancake Day, Easter and Christmas, have always seen a rise in the sale of baking utensils, but stats from shopping insight consultancy, IRI, show this has surged during every season of the show as it continues to grow in popularity.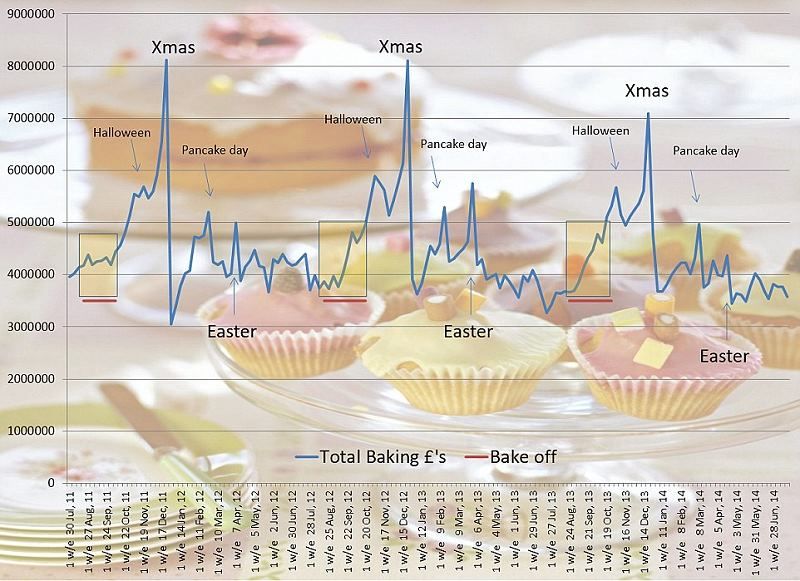 [Source: This Is Money]
Although Tesco saw a 30% rise in demand for cake decorations during GBBO last year and has forecasted that this will be as high as 40% this season.
Interestingly, items such as flour, sugar and cooking chocolate saw a slight dip in price AFTER the series ended, according to supermarket data. So you may want to to keep that in mind and wait until after the finale to bake to take advantage of the cheaper deals!
A nation of bakers
According to IRI, sales of baking products have risen by a dramatic 62% since 2007, but this has also seen the price of baking products also increase, mostly driven by the higher costs of dried fruit and wheat.
Despite rising costs, the trend for baking hasn't slowed down, as people enjoy experimenting in the kitchen and producing homemade meals and treats for their families and friends.
Either way, as Tesco homebaking buyer Darren Atherton commented on the subject, this can only be a positive thing:
"The Great British Bake Off is the biggest thing to have happened to homebaking since cake mixes first appeared nearly half a century ago and has inspired a whole new generation of younger bakers."
But with so many people baking, what about shop-bought cakes? Retail analyst Mintel found that sales of manufactured cakes have dropped in favour of homemade, though if you make it yourself, it's practically a meal!
Monitor price, stay competitive
Along with enjoying soggy bottoms and cheeky innuendos from the tent, we at Competitor Monitor will be watching the prices of popular baking products to see how prices fluctuate throughout season 6.
In the meantime, let Competitor Monitor help YOU to improve price competitiveness and profits. We monitor thousands of sites across the globe and over 20 million unique products across various industries, from FMCG to lifestyle -
get in touch with us today
.