Technology Has Made Price Data Widely Available
Technology-enabled customers know that shopping around based on price can be a way to save as much as 30% or more on their next purchase. Price shopping has become more prevalent with the adoption of ecommerce.
In the offline world, a customer would need to visit two or more different shops to gauge prices. Price discovery involved a much bigger investment of time and effort then.
Now, a simple Google search and a few clicks around major ecommerce platforms will get the job done. In 5 minutes, customers can come away with a good estimate of what things "should" cost.
Below, we break down the behavioral drivers behind why customers focus on price.
Aggregators Present Prices As A Way To Save Money
A contributor to the focus on price in shopping decisions is the growing role of aggregators. Aggregators have appeared in industries as diverse as hotels, travel ticketing, insurance, and other consumer markets. A few major examples include:
Aggregators place little emphasis on the distinctive features of each brand. Key among the aggregators' value proposition is the ability to search by price.
In this shopping environment, consumers learn to perceive the actual brands as being homogenous. Any particular product or brand can be replaced by any other. As a result, consumers become attuned to using price as the primary consideration.
It used to be, that aggregators only posed a problem for hotels and airlines. The emergence of aggregators in other product categories such as fashion, however, threatens more retailers.
Translate Media notes
that the spread of aggregators will be a disruptive force as brands will struggle to stamp their individuality.
Deals Sites Like Groupon Have Hurt Brand Loyalty
Over the last decade, deals sites like Groupon and LivingSocial have contributed to a lowering of brand loyalty. The negative consequences of Groupon and deal sites on brands has not escaped scrutiny.
There are many reasons why such deal sites have proven harmful for brand loyalty. First, they can get customers hooked on discounted offers. Customers who are used to shopping your site or store using coupons may be reluctant to buy if there are no promotions available. They may prefer to go buy the product elsewhere, even if, in actual fact, your prices could be comparable.
Secondly, deals can demean the brand over time. By constantly offering deals, you may be sending the message that your products are not worth the full price.
The third effect, however, is more general. Deals sites not only affect retailers who use them, but even retailers who don't participate in offering deals. Price-conscious customers will emerge from environments where they are getting deals always, and they expect every retailer to be the same.
This does not, however, justify lowering prices just to compete. In a
nationwide survey, YotPo discovered
that product quality was more important than price for fostering customer loyalty.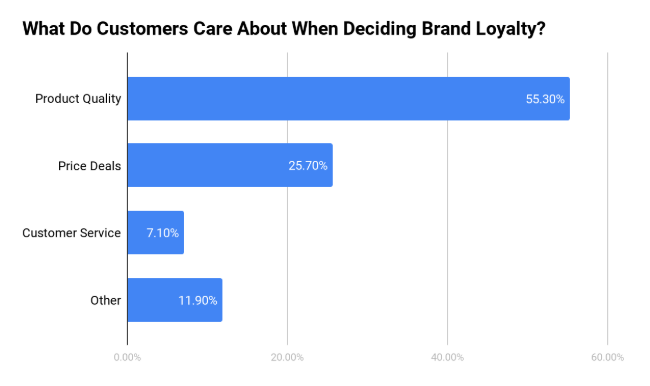 Chart: Factors Customers Weigh for Brand Loyalty
Be careful though, once you open the discount Pandora's box, it may be hard to get rid of the discounts. Loyalty is lower too, people may stay because of service but become more likely to try new sellers if those sellers' prices are significantly lower. As such, competing solely on price is not sound strategy.
Luxury Buyers Are The Opposite: Prefer Exclusivity
While it might appear that customers focus on price just to get the cheapest product possible, this is by no means accurate.
At the opposite end of the spectrum, we have customers who pay attention to your prices, but for premium reasons. Think upscale buyers shopping pricey gifts for their families.
In the luxury buying segment of the market, prices are just as important as in the discount segment, but for diametrically opposed reasons. Here, your customers want to know that the product they are about to buy is truly a premium product.
There are many ways to project premium characteristics. You may signal the premium nature of the product with high quality materials. This is especially so for consumer products like fashion, gadgets, furniture, and other products where premium materials can add to the experience.
Price is also an important tool to signal a high end product. In such cases, pricing higher than the competition can be a cue for buyers to treat your product as higher quality than alternatives. While they may like to think otherwise, luxury buyers can be just as focused on price as buyers of cheap products, but, in this case, with a strong preference for the higher-priced product.
In other cases, the type of packaging may be used to reflect a premium product.
The customer service you offer, as well, can be the sign of a premium product. For example, if you sell a software package, the product could offer individualized support for premium package buyers.
How Customers Perceive The Price Is As Important As The Actual Price Itself
In all the discussions of why customers focus on price above, we have not yet highlighted a critical, but often misunderstood aspect of price. While price is important, what is even more important is how customers perceive the actual price.
Just pricing low compared to the competition is not enough, if customers perceive the price as higher, which happens more frequently than you'd imagine.
Retailers who were perceived to be charging high prices, even if they had average or lower prices, received less sales. More expensive retailers who were perceived as selling low priced items benefited.
Key in this study was the finding that brand and store design can have an impact on how customers perceive your prices.
For example, if you have an upscale design, customers might perceive your prices as higher, to be congruent with their expectations that you are a premium retailer. If your designs look more scrappy and barebones, customers might view your product as low-priced. This happens even if, say, you are charging average prices.
Avoiding The Pitfalls of Price
An active price monitoring strategy such as using an online pricing tool can give you visibility into what your competitors are doing. You will therefore be able to react to consumers' shifting price expectations.
However, pricing is not the be all and end all of brand building. To be effective, you need to be able to foster brand loyalty using other characteristics such as product quality or customer service as well.