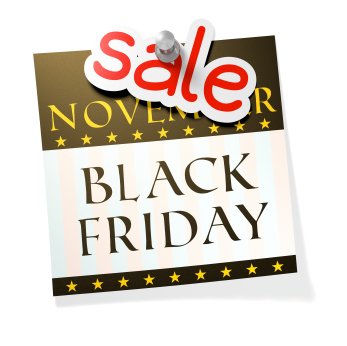 As the holiday season approaches, the traditional seasonal frenzy starts off in the United States with the post-Thanksgiving blockbuster sales weekend duo of Black Friday and Cyber Monday. In years past, Black Friday has always been an amazingly profitable day for brick and mortar stores, but it reached a new height in 2012, with over $1 billion in online sales alone. As if that wasn't enough, the more online-oriented Cyber Monday smashed that record with over $1.5 billion dollars in sales. Remember, these are numbers for single days of shopping - and even if you're not based in the US, you can still capitalise on these sales frenzies with some good planning.
First of all, make sure that your discounts and sales for those days are specifically branded with the right names, as customers will be browsing to make sure they're getting the best deals. Even if you're planning on offering a sale or discount during that time period anyways, you may want to consider showing a special version of your site aimed at American visitors that contains Black Friday/Cyber Monday branding.
Especially if you're not based in the US, consider adding in a 'Free Shipping' deal, as shipping costs can become major barriers to purchase if items must be shipped globally. Defray the cost of this offer by setting a minimum purchase amount to qualify, which often pushes customers into purchasing more than they had initially planned in order to qualify.
Another cheeky trick you might want to try out is the idea of a countdown to the days in question. While it may have a slightly detrimental effect on your sales during the run-up to the weekend, it will more than make up for it with the number of users who flock back to your site to ensure they get a chance to make their purchases in what they perceive as a very limited time discount.

One other concern for e-commerce retailers during this rush period is to ensure that the servers hosting your website and payment processing can handle a sudden and dramatic increase in traffic. Most of you won't have to worry about this, but smaller stores may want to speak to their hosting companies to determine what volume of concurrent visitors they can handle - the last thing you want to happen to your site is for it to be inaccessible to people who are eager to purchase from you!