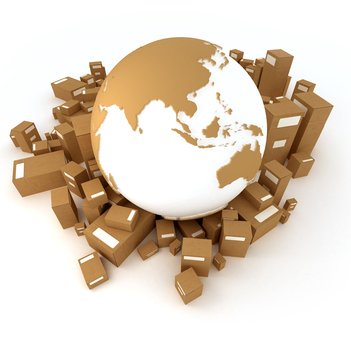 They're everywhere in the financial news nowadays - the growing strength of the BRIC economic bloc, the rapidly expanding economies of Brazil, Russia, India and China. China's growth is the stuff of legend, but no more so than in their e-commerce sector. At last, the latest forecasts on the Indian e-commerce sector are starting to show similar gains. Despite the fact that the Indian economy is at a bit of a standstill at the moment overall, individual sectors show some astonishing growth potential, and no more so than online retail. As more and more of the country's over 1 billion inhabitants comes online, the consumer appetite for shopping is transitioning at the same time.
The latest research and forecasts from Crisil Research Ltd, an industry analysis firm based in Mumbai, has projected growth that rivals the astonishing growth numbers that China has been displaying, estimating that online shopping revenues in India could triple over the next three years to over $8 billion USD. Since 2007, e-commerce revenues have been growing at an average rate of 56% each year, and there's no reason to expect that to slow any time soon.
Current estimates place the number of internet connected citizens at around 200 million, and consulting firm McKinsey & Co. estimates that number is set to rise sharply to nearly 500 million in by the year 2015. This surge in connected citizens and its corresponding e-commerce potential has attracted a number of companies to the growing sector, both from within India and without. Jabong.com, one of the largest e-commerce general retailers in India, recently raised $100 million USD in equity funding from a private equity group backed by the government of the United Kingdom, CDC Group PLC, which explores growth potential in emerging markets such as those found in the BRIC.
These incredible numbers haven't been ignored by the major players in the global e-commerce industry, with retail giant Amazon launching it's first foray into the Indian market in June of 2013. Expect to see sudden expansions from other major companies in the coming months as well, as large online retailers around the globe start embracing the global potentials of high degrees of connectivity and ease of shipping across long distances. Amazon may be the first to test the e-commerce waters in India, but Chinese rival Alibaba.com are doubtless already planning strategies to leverage the same burgeoning markets.