As consumers across the UK comclude their lastminute purchases in time for Christmas, experts believe that 'Panic Saturday' was the highest grossing single retail day in the UK this year with over £3.5 billion spent, eclipsing the suggested £1.3 billion and £1.1 billion spent on Black Friday and Cyber Monday 2016 respectively.
'Super Saturday' , also referred to as 'Panic Saturday' or 'Sales Saturday' is widely accepted as the last full trading Saturday before Christmas excluding Christmas Eve this year which falls on a Saturday, as most retailers cease trading earlier than normal.
With a reported £450,000 spent every minute during what seemed to be another landmark occasion for UK retailers in the run up to Christmas ('Super Saturday'), it is not unreasonable to conclude that retailers will now pay 'Super Saturday' the same attention, if not more, compared to 'Black Friday' and 'Cyber Monday' which has dominated the UK retail calender since its introduction by Amazon in 2010.
With the largest toy market in Europe valued at over £3 billion, UK brands and retailers have enjoyed a 6 percent increase in sales from 2015 driven by new and innovative toys that made up over 30 percent of all UK toy sales in 2015.
Toy Monitor tracked price changes for 10,000 toys sold online by over 20 major toy retailers in the UK on Super Saturday and compared this to price changes made by these retailers on Black Friday and Cyber Monday 2016.
Toy Industry Prices During Black Friday and Cyber Monday 2016
Data from leading toy retail price monitoring platform Toy Monitor found that UK toy retailers made 209,000 price changes on Black Friday Week and over 139,000 price changes on Cyber Week 2016. Over 40 percent of these price changes were price increases, on both Black Friday and Cyber Week respectively, with over 44 percent of price changes during Cyber Week categorized as price increases.
Amazon accounted for over 80 percent of price increases made by UK toy retailers across both Black Friday Week and Cyber Week. Surprisingly, the online retail giant was eclipsed by smaller rivals when analysts at Competitor Monitor considered the price increase percentage across all price changes made by UK's leading toy retailers on Black Friday and Cyber Monday.
Black Friday 2016 (25th Nov.2016) –
The Toy Store and Symths Toys made the most price increases as a percentage of their respective price changes made on Black Friday. Department store chain Debenhams, was the only retailer who had 100 percent of price changes as price reductions.
Cyber Monday (28th Nov. 2016) –
Toys R Us and John Lewis made 100 percent price increases across all price adjustments made on Cyber Monday.
Price Changes by Toy Retailers on 'Super Saturday' 2016
Super Saturday (17th Dec. 2016) -
UK toy retailers made 817 price changes on 'Super Saturday' 2016 with 69.2 percent of these being price decreases. This would support the idea that many toy retailers started their Christmas sales early to maximise sales opportunities especially as consumers still hunt for festive bargains.
All price adjustments made by Asda, LittleW and Very on 'Super Saturday' were price reductions. Pixmania had the least price reduction percentage (6.5%) of their overall price changes made on 'Super Saturday' followed by Smyths Toys with 11.7 percent of total price adjustments being price reductions.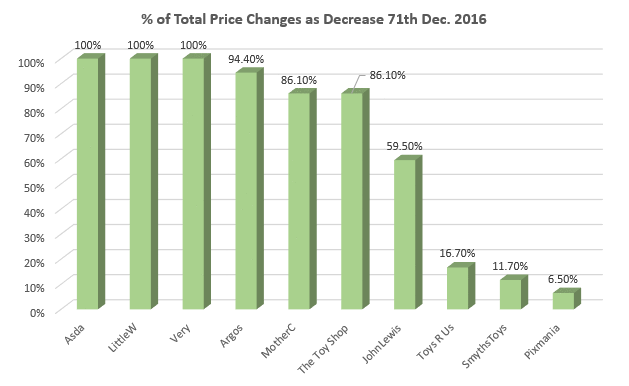 UK toy retailers made the most price reductions on 'Super Saturday' 2016 compared to Black Friday and Cyber Monday.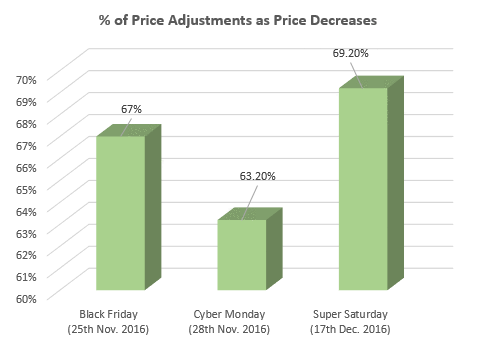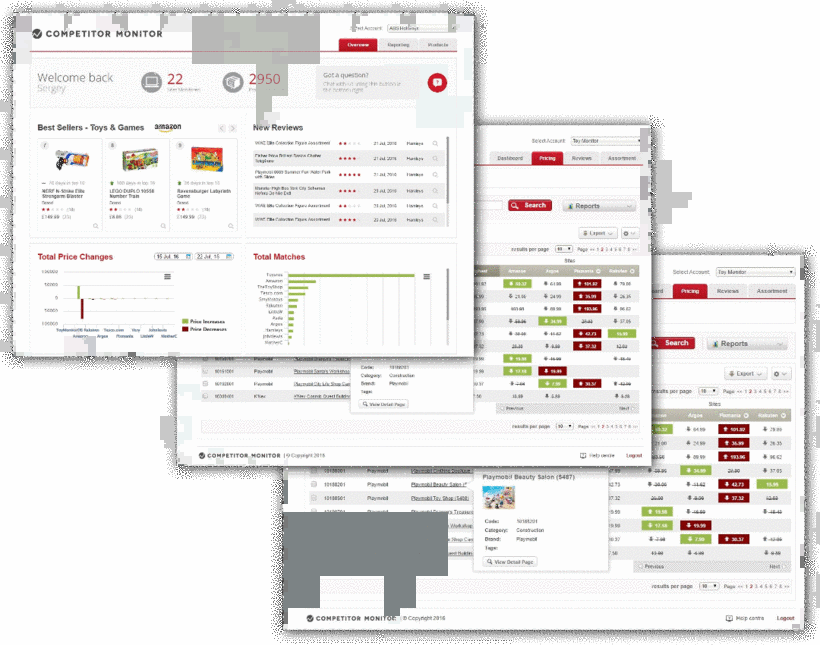 Toy Monitor helps toy retailers and brands navigate the online landscape and keep control of their brand. Our intuitive platform provides real-time insights on toy prices, promotions, stock availability, reviews and more for toy retailers and brands in the UK.
Keep your finger on the pulse of the UK toy industry with our real-time price monitoring features and execute your competitor monitoring program with absolute precision.