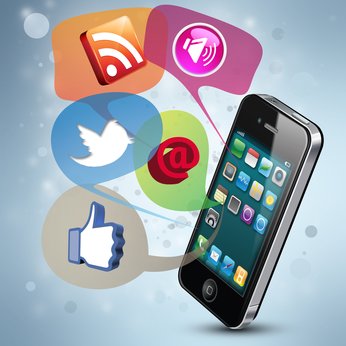 Almost every successful business in the world has come to embrace the power of social media. Having a Facebook page isn't really optional any more, it's simply become a new essential element in the marketing budget - and fortunately, print marketing costs are being reduced by many companies to keep things palatable for the bottom line. But now that Facebook and Twitter are par for the course, many companies are finding that there are other opportunities to stand out in the social media sector. Many businesses with younger demographics are finding that Facebook doesn't always reach their target audience, and even Facebook itself is a little concerned about the increasing ambivalence to its charm from the newest generation of consumers.
Several new social media platforms have distinguished themselves over the course of 2013 as potential new trendsetters, and as we saw with Facebook and Twitter, the retailers that actively embrace new social media platforms (and use them successfully) can gain a real edge over the competition. While not every company should take the time to invest in every social platform, choosing the right platform to reach the right demographic can be very powerful.
Pinterest has been in a long, slow ascendancy since its launch back in 2010, growing in popularity but not offering businesses any guaranteed way to capitalize on it. However the company has recently unveiled their first ad-based offering, known as 'Promoted Pins', which is a perfect solution for almost any fashion, design, or home-related brand where visual appeal is a huge sales driver. Pinterest is almost made for those companies, and with this initial launch they pave the way for even greater adoption as companies climb on board.
Instagram has also been popular for quite some time without an effective means of paid advertising for companies, but thanks to its truly widespread adoption, this isn't the dealbreaker it may initially seem to be. Thanks to sheer popularity, many major retailers in the United States have already debuted advertising campaigns without the added cost of actually paying for placement. It may require a more carefully developed plan to be successful, but the benefits of Instagram being seen as ad-free are obvious.

Finally, a couple of new players have been starting to make waves in the social media sphere, namely Twitter's video sharing service Vine and the instant-messaging service Snapchat. Snapchat made headlines recently after turning down two buyout offers from Facebook, the second of which was for a whopping $3 billion USD. Snapchat has already lined up some interesting retail ad campaigns from Juicy Couture among others, and limited-time campaigns from Karmaloop and The Co-operative Electrical have made headlines. Vine is also helping retailers cash in on the video marketing craze that YouTube started, with many fashion retailers embracing the platform.